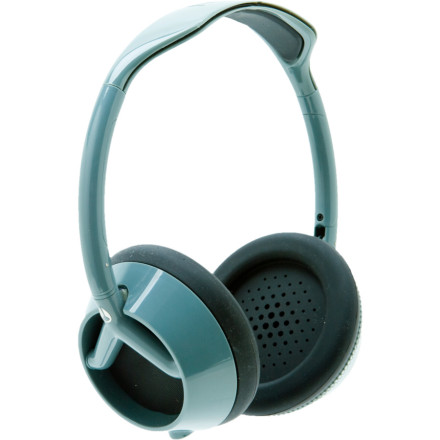 Colors

Detail Images
Description
You're a real trooper if you want to put up with other headphones.
If you like your music to follow you around then the Nixon Trooper Headphones are your bag. The custom folding hinge makes them easy to store in a pack. Or if that's too risky for your primo headphones you can put them in the custom molded carrying case. 40mm drivers power these bad boys, so don't worry about your music sounding weak. And for comforts sake Nixon made the ear cushions out of custom molded silicone and padded the headband.
ok sound
Familiarity:

I've used it once or twice and have initial impressions
Got this for the airplane trip, worked pretty good. The sound wasn't the best, but it did do it's job.
Good middle of the road unit for my 19 year young daughter. Padding needs to be beefed up around the outer circumfrence of the ear piece. The ear has a tendency to rest against the perforated speaker cover. Wearing the headphones over a period of time becomes very uncomfortable. Volume control ring in the speaker housing is convenient.

Backcountry was great during the transaction with very cordial customer service!
I was in the market for some headphones that I could study with, get decent audio quality, and have them be stylish. These headphones delivered! I am a bit of an audio junkie, and while these are no beats or Bose headphones, I paid $25 for them. Seriously can't complain about the quality for that price. As for comfort, they are pretty solid. No issue with anything less than 2 hours, but after that I begin to feel it on the ears. Again, the cushion on the headphones is not nearly as nice as those higher priced ones, but it gets the job done!
Bought these puppies for my sister recently. When i tried them on, I almost took my gift back for myself...but I'm not that bad of a brother. For the price point, these headphones are top notch.

The drivers are high quality, delivering warm bass and crisp highs. These aren't "bass specific" headphones, aka, they're not blown out with bass, just the right amount in the mix to get your hip-hop fix...

Now, the earpieces are covered with silicone. You heard right, silicone: otherwise popularized by "medical implants". I didn't trust this at first, I expected to be sweating my ears off within 30 seconds of having them on, but the comfort (and lack of sweat) blew me away. Throw these on and its like covering your head in...fake boobs? Either way, its really comfy.

Also, these work great with a beanie, a huge selling point for me. For some reason a lot of headphones don't work too well on top of a hat/beanie in terms of comfort, but these are perfect.
This headphones are awesome. They are really confortable and sound great!!!
These headphones work great for cubicle land and traveling. They are soft on the ears and the dial to adjust sound is very convenient. I love how they fold to become more compact in their case and I prefer these over ear buds (especially when traveling). I got the blue and they are bright blue similar to the timeteller watches. It would have received 5 stars if it were a little softer on the ears for more than 8 hours of wear (ears were a bit red and sore) and my neighbors can sometimes hear my music when I'm really cranking it loud. Overall, another good Nixon product and happy with my purchase.
These headphones are Comfortable, deliver deep high quality bass, look steezy as a muhla fuhla, Compliments are unavoidable, and a dank knob that allows you to adjust the volume. I work with these everyday at a music production office, and when someone ask's for something, a simple turn of the knob kills my music and I can quickly answer someones question. Freakin amazing headphones
THANK YOU NIXON !!!

~68i0U1 Inc.
Are these headphones going to be durable...
Are these headphones going to be durable if I take a hard spill??
Probably not. They are relatively sturdy, but would have potential to break at the hinges. I've fallen with them on while snowboarding, and they survived. If you're willing to risk it, though, they'd probably survive a fall as long as you don't land on them.
So siiiiiiiiiiiiiiiiiick.
Bought these off whiskey a couple weeks ago and they DO NOT dissapoint. Would've paid much more then they were asking. Say goodbye to cauliflower ear with the silicone ear cups. Super comfy and style to boot. Get em' don't think twice. I promise you won't regret it.
Killer. Best $20 ive spent in a long time
These things are killer. Caught them on whiskey militia for 20 bucks. Sound is very good, not as good as a high end brand like bose, but still good. Seem sturdy enough. They fold down nicely in their case for packing them away. Pretty comfortable, no complaints after wearing them for long periods of time. My favorite feature is the volume dial that is built into the right ear speaker. They are a steal at $20, and definitely a solid purchase at $50. Rock on Nixon.
Unanswered Question
Anyone know if these are mic'd to answer...
Anyone know if these are mic'd to answer ur phone? Thanx to who that answer!!
To be honest, I wasn't expecting much from the sound quality for such a good priced/good looking headphone.... but I was blown away! Perfect for snowboarding, especially with the volume control knob on the right earpiece. The silicon is cozyyyy and the snow rolls right off. I love how they fold into the case and the cord can double as an AUX cord by disconnecting from the headphone. If something happens to them, I'm buying another pair for sure. 10/10!
The cushions don look like they are big...
The cushions don look like they are big enough will NY ears rest on the plastic or the cushion
Depends how big your ears are! Mine are average size and seem to fit inside the silicone cushion nicely. That said I wouldn't imagine you would notice any major discomfort if part of your ear was pressing on the silicone outer rim as it's about as squishy as the inner silicone plate.
I've had my troopers for nearly a year and theyve been awesome, sounds been great, love the adjustable volume on the side, ive been pretty rough with them too. The silicon ear pieces have come off a few times but thats from me dragging then out of my bag but they went back on my problem, but i was asleep on the bus and put my head against the window..and snap..one side snapped in half, tried all sorts of glues/adhesives and tape but because of the plastic theyre made off it just wont stick together. Sad times but im gonna buy a new pair cos they lasted me that long for such a good price!
I've read a few reviews on these headphones, getting right into the nitty gritty about sound quality etc. To be honest some of these put me off. But get these for the right price and you won't regret it. Ok so they may leak a little sound and not match up to a pair costing £300, but let's face it these are mostly about style and on that front they win over most other headphones out there.
Sound is fine, nothing incredible. They isolate outside sound pretty well and the silicone cups are really comfortable, infinitely more so than the Nomadics. They're also lightweight, adding to the usabilitry. So if you want the best sounding headphones, go spend a lot of money. If you have a bit of spare cash or looking for a nice gift for someone with an awesome sense of style then get these.
Just buy them they're great. I LOVE the silicone ear cushions, they are super comfy and feel so good on your ears. Sound quality is excellent for this price. I only wish I would've waited to buy them cause these new colors are sick!
The only downside to these headphones are they are completely made of plastic, so if you rough on headphones I probably would stay away. Other than that they are great, easily foldable, great design, cheap, and they sound great.

To people that worry about bass. I read a couple reviews that these headphone had no bass or they would distort when turned Up loud. The only distortion I've heard is due to some of my poor quality music not the headphones. Tip also is to turn the EQ setting to off on your iPod, sounds much better

In whole buy them, now
do u guys ship it to Brazil?
do u guys ship it to Brazil?
Terribly sorry, but Nixon is not down with us shipping their product internationally.
I ski alot and was wondering if anyone has...
I ski alot and was wondering if anyone has any suggestions for what headphones would be best under a helmet? I was using the skullcandy buds before but they didn't stay in so want to go for some on ear 'phones instead. I'm not fussed on branding and just want good sounds that will be comfy under a helmet...
There are helmets that have speakers built in. I don't know of any on ear or over ear headphones that would fit under a helmet.
Get the nixon whips, they're really slim and super strong. Ive had them for a couple of months and had some hard spills with them and they pilled threw and stuck to my melon very well. And there cheep and sound good enough for the price and size.
Unanswered Question
the description says its silver and black...
the description says its silver and black but it looks like in the photo the headphones are seagreen and black. what are the headphone colors?