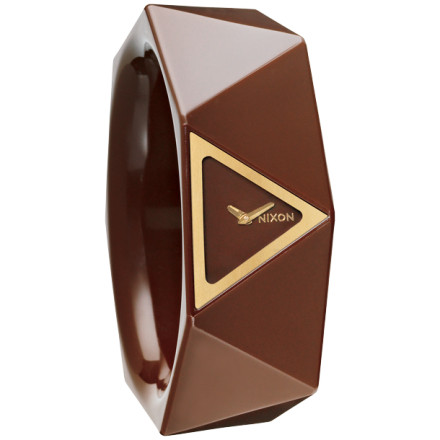 Detail Images
I love the style and look of this watch but it is waaaaayyyy to big, falls off my arm, I have normal size wrist for a girl. Very disappointed it didn't fit :(
But "one size only" was not so cool. The watch was unfortunatly way to large for me.
So nice I bought it twice (okay thrice)
I seriously cannot sing the praises of this watch enough! I bought the sea green one and when I saw it again I bought the clear hot pink and black (first time Ive ever bought duplicates of the same watch). Its so chic and fun! Yes its clunky but its more like a bracelet that doubles as a watch. I love wearing it out and saying "hey do you like my watch" to which people respond "thats not a watch." Then I show them the watchface and BAM! Their mind = blown.

Seriously though, this is a great watch for those of you who like your watches to be funky fashionable jewelry. Its sturdy and has already survived many drunken nights out with me. As far as the sizing goes I think its pretty normal. I have average sized hands and it slips on easily but doesnt fall off.
Got this watch for my sister, on her birthday. She said she loved it. Got it in turquoise.
I got one in clear, and it looks awesome. I have normal-sized female hands, and I had a bit of trouble getting the watch on at first, until I realized my skin was too dry and put some lotion on. Otherwise, no complaints!
how do you know it will fit?
how do you know it will fit?
Best Answer
It is like a large sized bangle. It will fit unless you have some beastie inflammation.
Nice watch. Was a Christmas Gift for my wife (in color black). She thinks it fits nice (not too big or small) and she likes its subtle watch. Needed to get used to a triangle watch face though. Overall very happy. Super fast shipping.
The Nixon Tribella is a wicked cute piece of jewelry, that WOAH doubles as a watch! I have it in white so it matches just about anything! This is one-size-fits all, but if you have larger wrists, its a slight struggle.
this is normal "girl" sized, don't get stuck
My wrists are on the big size (as far as most women's watches are concerned, still small compared to men's watch sizes) and this watch almost got stuck on my wrist. So i have to disagree with the previous review about these running big. I've tried on plenty of Nixon women's watches and all the metal or fixed size bands are too small, so I would say this one is just the same as the rest of their women's sizing.
I liked the way the watch looked on the website, however in person it is much thicker than one would imagine. I also found that it is too big, I have normal size wrists and hands and when I straighten out my arm the watch falls off, so a warning that unless you have big wrists or arms this watch will not fit.