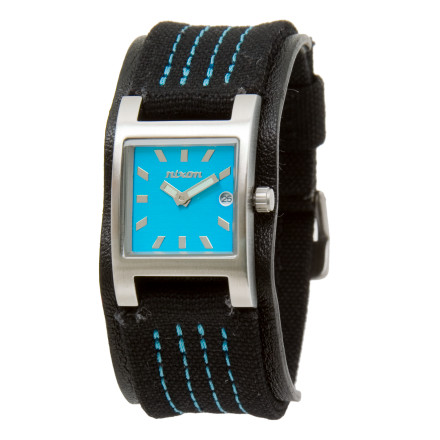 Detail Images
I have metal allergies. This watch is great because no metal parts touch my skin. I hardly notice it because it is very comfy. No complaints
I like it very very much and wear it every day. I really recommend this watch!!!
My husband gave me this watch as a Christmas gift and I absolutely LOVE it! I tend to dress pretty conservatively, but I love that this watch looks a tad sassy too. I wear it everywhere - even to work. I have no idea what "imasianplum" is talking about with the band because it's all leather and seems very durable, NOT flimsy. Yet it's a trim watch and not too bulky. The brushed metal face looks sharp and classy, and the band's buckle adjusts to fit even small wrists like mine. I have the pink and brown one, but I'm hooked and can't wait to start an entire Nixon collection -- next up "The Small Ticket" watch.
I love this watch!! It goes with everything!! I have two of these watches because that's how much I love it and Nixon seriously rocks for making it. I get lots of compliments on it and its a pretty durable watch I got the first one for 2 yrs and then decided to get a diff color so they are truly one of a kind watches. Worth the price!
So I ordered this watch b/c I had one before that either I lost or got stolen & couldn't stand not having my Nixon watch. I went back & forth trying to decide which style I wanted & finally went for the Brown & pink. It is just fabulous. Nice & light weight where the leather isn't too heavy that it makes your wrist sweat. Plus, it just looks hot & I get lots of compliments.
It is a beautiful watch. I love it. Unfortunately I have a tiny wrist and the width of the watch does not work for me. I really wish it did.
This is the cutest watch that I own. The same quality as all of my Nixon watches
Trixie not so tricky. Nixon watch.
Very Mod design. Nice face outside curve on timepiece including the smooth edged crystal. Comfortable wide adjustable leather band makes a signature statement also keeps watch securely on wrist in one place. Very cords to dress. Not for the pool or sauna. Smart, pretty, go anywhere, reliable ease of use. Its a 'win-win' watch.
fashionable and durable. love the watch. highly recommend to others.
Bought this watch for casual wear, very hip. I like the wide brown stitched band as well as the pink face. I've bought 4 Nixon watches total--3 as gifts (Super Rover, The Player--wood, & The Naughty). Mainly because of cool styling, but also for Nixon's awesome reputation & warranty. You won't be disappointed.
I bought the Trixie Watch, and it is awesome. I have had no problems whatsoever with a flimsy wrist band. Its leather wristband seems durable and even has an extra leather piece under the face of the watch to make it sturdier. You can't tell just by looking at the watch on the internet. but the hands of the watch glow in the dark also, so you can tell the time no matter what time of day it is. I have the brown Trixie and it goes with everything and is super classy looking.
I love the Nixon Trixie. I have the pink and brown one and it goes with a ton of stuff. I have had numerous compliments on it and my friend is planning on buying one as well. I don't have a problem with the band - it is comfortable and stylish. I would buy the Trixie or another Nixon again.
I saw the watch in the catalog and loved it. I ordered two - one for myself and one for my sister. When we got the watches, it just didn't meet our expectations. The wrist band was really flimsy. It was disappointing and we returned them.