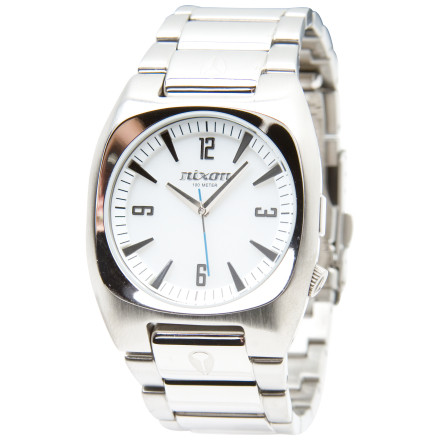 Detail Images
The Nixon Men's Tach Watch uses a combination of a classic design and fine craftsmanship to create a chic watch that you can trust. Nixon uses three hand Japanese quartz movement to give you precise timing down to the second. The 100 meter water-resistant case is made from stainless steel and hardened mineral crystal, so it can withstand an unplanned water submersion. The Tach's link band, also solid stainless steel, is durable scratch resistant, and closes by a double locking clasp.
Gunmetal color a little off
Awesome looking watch I have to say that first. Just make sure you know what you are getting when you choose gunmetal. The band is much more "gunmetally" than in the picture. It looks awesome but dark watches are not my cup of tea. Very excited to get the silver band with black face in the mail! Just made the exchange!
Unanswered Question
what are the case dimensions to the nixon...
what are the case dimensions to the nixon tach watch? is the band suitable to a large wrist (the scout, for instance, is not)?
I was really happy to see that the watch looked the same in the picture and it also feels solid. The gun metal is awesome looking too! My boyfriend is getting a lot of compliments from his buddies at work.
How thick and case diameter in mm...
How thick and case diameter in mm please?
35 - 41 MM FROM 3 TO 9 O'CLOCK POSITION Source Nixon. The thickness of the case is probably around 15mm.
Nixon Tach. How do YOU tell time?
The Tach is maxed out--the watch is killer, and dogfunk's service was just as mean. The watch was sent to me as a gift.. I opted for the black/red version instead and sent it back, postage PAID. When they mailed the new one it came in two days, same as the original shipping. Not to mention the phone convo's I had. The people were people, rather than most places where its like talking to robots, or worse, people from a different country. Not that I have anything against diverse populations, but customer service is just something that shouldn't be subbed out. Customer service was so mellow I even had a few laughs. The watch has seen a lot of abuse in the first two weeks and proving to be strong. Nixon is the way to go, dogfunk is the place to buy.
- Austin, NH