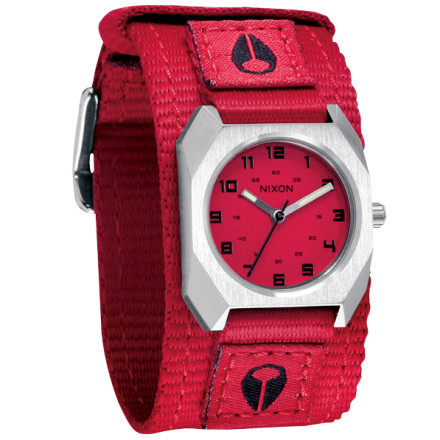 Detail Images

Community Images
Unanswered Question
What type of battery do I need to buy to...
What type of battery do I need to buy to replace the old one? It just died on me after 2.5 years. love this watch!
Just received this watch and it's amazing it exceeded my expectations and the pattern is really cool, it has a lot of colors which means I can match with anything A+
stuck to my wrist, every day
For a long time, I couldn't wear watches. The batteries always died. Finally got my Swatch to work, so I went on the prowl for new wristwear. This is the first watch I swooped up, and I've worn it every day since I got it. The band is wide enough to cover my wrist tattoo (which my boss appreciates) but not wide enough to look like an arm warmer. Bought it in Blockade, and the pattern on the strap is awesome. Some variation in strap pattern is to be expected, but it just makes the watch that much cooler.

The band is 1.25" wide and 8.5" long from buckle to end
the face is 1" long by 1.25" wide

Have to wear business casual at my full time gig, and even my boss compliments me on this watch. Dressy enough to look good with slacks and a blouse, casual enough to wear with jeans and a tshirt. This is a must-have time piece.
Slightly smaller than the men's version
The gunmetal scout is super nice. Quality is just as good as my men's scout. The only difference is that the face is slightly smaller and the band is slightly smaller, but everything is pretty much the same.
, ☃bcs_badge_alumni_label☃
Awesome Watch
This watch is the bomb! I am small and have a teeny wrist and it totally fits and doesn't look like it's too big or wearing a men's watch. I love the color, I got the pink one and it's so fun! The watch band is nice and soft and the glowing hands are a total bonus at night.
I really like the look and color of the pink/brown and the all black gray. However, they were sent to me with dead battery. They said they would reimburse me when I go replace the battery but its just inconvenient....other than that, I love the watches.
How many inches is the band??
How many inches is the band??
The band is 1.25" and the dial is ~3/4"
How wide is it? I don't want it to look...
How wide is it? I don't want it to look bulky.
, ☃bcs_badge_alumni_label☃
Face size: 28 - 39 MM FROM 3 O'CLOCK TO 9 O'CLOCK POSITION
I haven't owned a watch in over 15 years and decided to get one because I'm tired of carrying around my phone just to tell time. It took me a while and I'm very picky as it is my first watch in 15 years. This watch is stylish and comfortable. All it does is tell time, which is exactly what I need it for...go figure!
I got this watch for work & riding on the mountain... i've already smashed it into several objects, & to my amazement, no scratches! This is the first watch I've ever owned that I haven't broken the glass in the first two months!

I also suffer from small wrists, and it fits perfect. I got the grey/black stripes and I get many complements, (especially from guys).

My only complaint is that the color on the band is already starting to fade; especially the deep black. Even so, I am considering getting a 2nd one in another color!
Got it a few weeks back for a watch that wouldn't make me look like a nerd. I have fairly small wrists and it fits great. Looks polished but still well-made. So far it's been in water and throw around quite a bit, escaping unscathed and looking like it just came out of the box. Haven't found someone yet who hasn't commented on how awesome it is! Highly recommend!
I thought it would be a little wider than it is. It's about 1.5 inches across. I wish it had the date on it somewhere. It's sporty.
I love my watch! I was so stoked when I got it and have gotten so many comments on it. I've used it when I've gone diving and fishing, too and this bugga's durrable!
This watch is awesome! Very trendy and versatile. Easy to adjust time. The pictures do the watch justice. There are many slots on the band so you can fully customize size of your choice.

There are a few things to consider when buying your watch. I bought a white small scout watch so it gets dirty easily. The cool thing is, it's very easy to clean. Just a little bit of dish washing soap, hot water, and gentle scrubbing gets all the dirties out. Afterwards, you can blot it with a towel and it's all ready to go.

The one downside to this watch is that the band that holds the strap down is a little loose. It tends to ride up every once in a while, so you'll have to push it back down.

All in all, I highly recommend this watch!
Love this watch! Survived the desert for 4 months with me. Only one thing if you buy it, keep in mind the strap is fabric, so if you're in climates where you sweat your ass off, wash it or it'll stink like something died on yur arm. K, shootz, enjoy!
This is a great watch. Sized right for a woman's wrist, very cool looking, and durable.
This watch is perfect for someone with small wrists like me. Finally there's a girls watch that it tough enough to handle it all!
This watch looks cool and is built really tough. No scratches on the face yet!