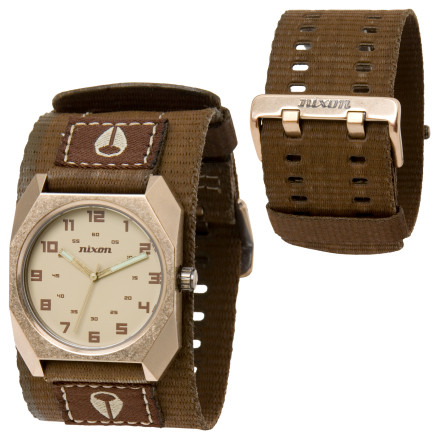 Detail Images

Community Images
While other watches hang back in fear, the Nixon Scout Watch blazes trail with its I-don't-take-orders style and rock-solid construction. The chiseled stainless steel case and wide, punk rock strap give the Scout a look that both Rambo and Don Juan would wear in a heartbeat. Nixon made the band from nylon webbing, so you don't have to sport sweaty cow-hide from dawn 'til dusk. All this, and the Scout still adheres to Nixon's good old-fashioned values of trustworthy time-telling. *AVAILABLE FOR US SHIPMENT ONLY.
Great Watch
Familiarity:

I've put it through the wringer

Fit:

True to size
Ive had this around four years now and its still in great shape. I replaced the band once i received it, but the watch itself is nearly indestructable. Ive since taken it on two tours in afghanistan, hiking and camping in japan, california, arizona...great little time teller.
solid watch
Gender:

Male

Familiarity:

I've put it through the wringer
i have had this watch for around 6 years and it is still in great shape! i recieved it as gift and didnt like how big the watch band was so i put on a kavu watch band and now i love it! it is a really stylish watch and still has plenty of life left in it
Soo dirty!! i got this watch in 9th grade and is still going strong after 5 years. Survived thru hiking through isle royal, shredding in vail, montana, keystone, breck and north star. Not a super flashy watch but very unique
The scout is a great watch. I've had mine for almost three years now. Still works fine. Awesome price and looks rad. what more do you want. Only one problem, your sweat stays in the band so you have to wash it. Not a big deal just kinda gross if you don't wash it.
I cannot say enough good things about this watch. Got it in Gunmetal which is slightly darker than the photo shows (which I prefer). The band fits very comfortably and seems quite durable so far. It's pretty basic but that's all I want. The glow in the dark hands are useful too.
I use this watch when I'm outside or just running around the house. Easy to clean up from a day of gardening.
No frills but looks great
If you want a watch that can tell you spacetime, this is not your watch. If you want a no-fuss, smooth way to tell time, this IS your watch. The nylon webbing is fairly comfortable on my skin, and though the watch is bulky, it did not feel heavy on my wrist. Pulling the knob out to set the time was a lot more difficult than I expected, but once it's set, it's over with. A good piece to add to your casual wear collection.
I've had this watch in black for six years. The construction is amazing, the band is incredibly comfortable and has lasted the entire time. I've only had to replace the battery twice, and the construction of the watch itself is rock solid. I've put this watch through hell - whether camping, hiking, torrential downpour, concert, etc... and its always up to the challenge. I would absolutely recommend this watch to everyone and will probably only ever own Nixon watches. Total props.
More Timless than a Timex
I have had my scout for over 4 years and thing is still working as if it were brand new. The metal around the face scratches easily, but it's not too big of a deal. The hands glow at night, but only if you were in direction sunlight before or else you get very little to no glow. It's super accurate and the band is still in pretty good condition after all of these years. There is apparent fading, but it still looks very nice. The only bad thing about my band is it kind of soaks up smells if it gets into contact with a some kind of potent liquid...for instance my band has a slight formaldehyde smell and this hasn't gone away for a few years now lol. So if I am every dealing with something that may come in contact with my band, I usually will just take if off and this includes when I am washing dishes.
love this thing- I've had it for five years and it's still going strong. It needs a new battery right now, which i have to buy online, but other than a small scratch on the face it's in great condition... And I've put this thing through hell. Surfing, skating, hot tubs, pools, hiking, summer music festivals, mosh pits, you name it. It's comfortable, looks great, and isn't horribly expensive. I always get compliments on it, too. Buy this thing.
I own about 6 watches and I wear this one more then any, I bought it in brown and it literally goes with anything I wear and its more durable then any watch out there for its price. A must have for anyone who owns a wrist.
I wear it every day, the only problem is that women are always hitting on me now and I'm married. I'm tired of people telling me how awesome my watch is, I freakin know, i'm wearing it.
I bought a Nixon Scout watch about 6 years ago and wore it through sandstorms in Iraq, snowstorms in the mountains of Southern Germany, surfing in the Netherlands, rock climbing in the Cascades, hiking in Glacier/Olympic/Rainier NP's, and everything in between. This watch is super sturdy, and will outlast 2-3 sets of batteries at least!
We knew we'd love the watch but your prices saved us a lot at Christmas. Thank you, and for your super fast shipping!!!!!
i use this to measure patients' pulse and respiration... Nixon saves lives.
Classic Goodness from Nixon
As mentioned by Steezzzy-E, I love this watch. Its just a great classic bullitproof watch. I always get compliments from the ladies on my blue plaid one. One great thing about this watch over some of the other Nixon's (I own several) is that you can actually tell the time with the scout. The band starts out a bit scratchy and stiff, but lasts forever. It breaks right in and you will never take it off unless you are replacing it with your Player or Rotolog. Thanks for the sizing pics Steezzzy-E
Write your question here.. what does...
Write your question here.. what does water resistant to 100m mean ?
Water Resistant to 100 m. means that the watch is mostly waterproof until you are over 100 meters underwater because the pressure is too much after that point.
Best Answer
Basically, that means that this watch is waterproof. If you ever have a reason to verify the 100m (328.08399 feet) rating, you have much bigger problems than what time it is bro - like getting out of the handcuffs and removing the anvil attached to your feet.
Which strap is better? I am looking at the...
Which strap is better?
I am looking at the Nixon Scout with the nylon web strap and the Scout with the leather strap. Which watch would last longer under rough working conditions?
I'd go with the nylon strap. Don't get me wrong, I love leather strapped watches for looks, but leather will stretch and degrade over time. I have had the nylon wrist strapped version for around 6 years now, and it still fits like the day I bought it.
iv banged the shit out of it and no scratch's yet... neon green is where its at!