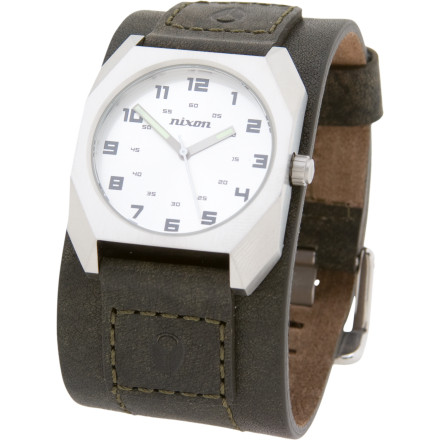 Detail Images

Community Images
Description
Great, you just finished repressing memories from the last time this happened.
You wake up on the cold steel floor of a utility van with a splitting headache. Your hands and feet are tied, and your Nixon Scout Leather Watch says you've been out for hours. You're not into conspiracy theories, but you have a hunch that this might be the same van that recently ran you over. Sure enough, as you look upward, layers of sadistic paint and sunken, bloodshot eyes greet you in the rear-view mirror. Feigning unconsciousness to avoid detection, you hear your captor muttering something about 'the Reunion'.
Share your thoughts
What do you think of the
Nixon
Scout Leather Watch - Men's
? Share a...
durable watch
Familiarity:

I've put it through the wringer

Fit:

True to size
Used this bad boy snowboarding, sailing, camping, hiking, regular wear, and it lasts nonstop. Great feel and look.

Well worth the money, too bad they are hard to find.
When you order it in black, is the band...
When you order it in black, is the band all black leather like the main picture, or is it the black/white fabric like the other pictures?
That Black/White combo band is a colorway that is no longer in stock. The two available colorways are going to be the Black, and Brown leather bands, as pictured in the main window.
Is it possible to find a replacement band...
Is it possible to find a replacement band for this watch? My son has been wearing this watch for 3 years, the timepiece works great, but the band is falling apart.
Hey Wendee,

Your best bet would be to call Nixon @ (888) 455-9200
How wide is the band on this watch?
How wide is the band on this watch?
Best Answer
I searched around quite a bit and this is what I came up with... The official Nixon website says this specific model is 35mm - 41mm from the 3 to 9 o'clock position.

According to sizing chart on this site, 3 to 9 means the width of the face of the watch unless the band is wider than the face, in which case the band width is given. Since the band is roughly the same width as face the band is 35mm - 41mm wide which converts to 1.4 to 1.6 inches.

I'm not one hundred percent sure why a range is given instead of an exact measurement, but then again we are talking about a 6mm difference(not too huge). I would plan on getting a watch with a band that is 1.5 inches thick, and worst case scenario Back Country is really good with returns if the width isn't exactly what you expected.
no complaints other than there is no date/chrono functions. pretty simple timepiece it looks nice I got the brown on brown
I've worn a bunch of watches in the past few years.... always like a bunch of features but dislike a bunch too. I've been wearing this Nixon a while now and I like it. I like it a lot. The band has tons of holes so you can get it to fit you just right. That's hard to find in most watches. It doesn't seem to break when you wear it for stuff other than posing- like going to the gym or punching cows on the prairie. It doesn't tear up my wrist when I wear it under gloves and that sort of thing. When you're done with all that functional crap that ties up life, you can wear it to the honky-tonk and still walk with a limp. Versatile: check.
I've gotten so many compliments on this watch. It looks great, feels great and probably the best watch I've own. I give it two thumbs up!
I clicked on a brown band, but only shows...
I clicked on a brown band, but only shows up in gunmetal. Can I get the brown band?
Which wrist srap is better?
I am looking...
Which wrist srap is better?
I am looking at the Nixon Scout with the leather strap and the Scout with the nylon web strap. Which would be better for a hard working guy that sweats alot?
Tick-tock. I'd go with the nylon webbing for sweating and overall comfort but the Scout leather band will take much more abuse in the long run. Nylon webbing can start to fray at the edges. It's a personal choice – or buy 2 like Bossman recommends.
Unanswered Question
is the silver Nixon Scout Leather Watch...
is the silver Nixon Scout Leather Watch still on sale?
thanks.
i need to know exactly how big it is, or...
i need to know exactly how big it is, or is there only one size cause i have a small wrist man.
Best Answer
The chances are this thing would fit Mary-Kate Olsen. Just over 7.25" at smallest circumference.
I really love this watch and it has stood a season in one of the toughest jobs in theatre. I have banged it on all sorts of things and have not broken the face. I have bent the clasp and the small band rentention strap... wore off... so I replaced it with gaff tape... other then that if you are not doing such intense things like moving steel scenery all day I would say go for it
Unanswered Question
can you go in water/snow with it?
can you go in water/snow with it?
So MUCH watch for the money
My boyfriend is world traveled so he knows a great thing when he sees it. But he is ALSO very minimalistic and into the "nut and bolts" of things. I own a Nixon so I scouted one out for him for Father's Day. This one was perfect. The band is wide enough to be stylish without looking ridiculous. The silver components are durable and not too shiny. He LOVES IT!! Go for the Black band / White face (I initially got what I thought was a black band / black face, but it ended up having a brown band. Maybe ok for someone younger but but I didn't like the black on brown at all.)

Also note worthy - I have purchased numerous items from Backcountry and their Customer Service is bar none. I can't say enough fabulous things about them and totally recommend them to all my friends due to their excellent service. Thanks gearheads!!!!
slick watch worth the pennies
Very nice. stays in place and doesn't wiggle around. I do first aid and EMT work, so its a must to have a watch that's comfortable and readable. only thing is there are no ticks for time in between 5 minute intervals, but i still manage time to the minute with the oversized face.
i used to have the roadie watch and lost it. i was devistated as it was far above the rest. the leather scout is a close second. it awesome! great look and great feel. i highly recommend this watch especailly if you think the rocker face is too small.
I absolutely love this watch! It's a very handsome and rugged watch that's easy to read, built like a tank and is extremely accurate. I went with the basic black version with the distressed leather band which feels very comfortable around the wrist and gets a lot of compliments from everyone that sees it. No matter if you get the basic Nixon Scout with the nylon webbing band or the classier looking Nixon Scout Leather, you won't be disappointed.
Great watch and Fits great! I am an EMT and i just needed a watch that has a second hand, and of course looks good. This was the watch for me!