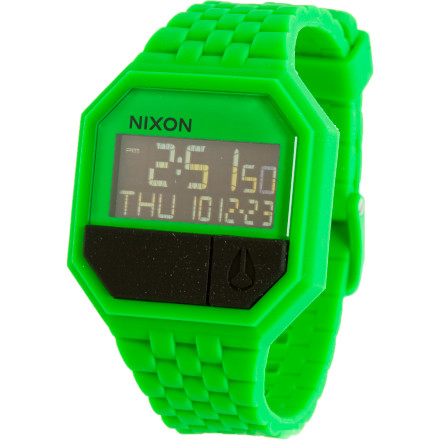 Community Images
When you finally roll out of your mid-afternoon lazy coma, slap on the digital Nixon Rubber Re-Run Watch and see how many hours late you're about to walk into work. If it's more than three hours they probably don't want you there anyway, so take your board out for a wave or two while wearing the 100-meter water-resistant, 4-functional Rubber Re-Run. With a calendar, dual time, alarm, and countdown timer, this flashy but practical rubber and plastic digital watch could help you manage your time more efficiently, if only it didn't feel so good to waste it all at the beach.
Share your thoughts
What do you think of the
Nixon
Rubber Re-Run Watch
? Share a...
broken after 2 months?!!
Familiarity:

I've used it several times
How does a watch screen crack? Its not a iPhone!! Mine did after not even two full months! Guess some water got in afterward, because now nothing shows up on the screen.
mine dies periodically
Familiarity:

I've put it through the wringer

Fit:

True to size
Every few days, the watch will reset...time, date, everything. Not reliable and I am returning it.

Other than that, great watch. Sporty look, comfortable.
after only 1 year of use the band in this...
after only 1 year of use the band in this watch is all tore. how do i get a replacement?
Hey,

Hit up or customer service at 800.409.4502 and see what they might be able to do for you, otherwise you could give Nixon a call directly and see if they can warranty that band.

Love the Colors in this watch! The Green is super bright and fun. Comfortable and great for wearing for biking, running, and skiing while also being not too sporty looking.
How do you turn the alarm off?
How do you turn the alarm off?
Here is a link to the user manual, that should help you to get the alarm from waking you up at 3:33 am

http://www.nixon.com/manuals/nixon-2-btn-digital.pdf
I don't know if I got a defective one or what, but the screen is blank and it won't turn on. Never ordering from Back Country again. Should've bought from the Nixon site :(
The watch is supposed to be waterproof but got moisture inside just from sweat did not seem very well made, looks nice but not practical for everyday use.
How long does the battery last?
How long does the battery last?
The shelf life of a watch battery should be about 2 years.
Best Answer
Hey Diddy,

I don't always wear rubber watches. But when I do, I wear the Re-Run.
Does it attract dust? it looks like it...
Does it attract dust? it looks like it might and look bad on the black one.
Best Answer
While the same can't be said for many different forms of pure rubber watch bands, the Rubber Re-Run is crafted essentially from an anti-static silicone, so you won't see it turning into a dust magnet while on your wrist. Pretty dope.
How or can you change time in a re-run...
How or can you change time in a re-run watch because it is a hour and 5 minutes ahead NEED HELP!!!!! thanx
1. Hold down the larger of the two buttons until you notice the digits in the lower left corner blinking.
2. They will say 12 or 24 hour, whichever you have it set or want it set to, use the smaller button on the right to toggle through your number choices.
3. Once you settle on the appropriate time in the slot that is blinking, press the larger button again and it will go to the next digit.
4. Repeat until all digits have been checked.

It is much more simple in practice than explanation.
Does it have military time?
Does it have military time?
I have a dobut ..... .
why the image of the main display showing on showing on nixonnow.com ? I could never see or find this display on my watch in any kind of mode setting.
Try to compare the image.
Is this because my watch is haveing a problem that I cant jump back to this display ?

See , the format, it shows only time on top and month, date & day at the bottom ?
While it's not technically a surf or a dive watch, the Re-Run is still good for a 100 meter dunk.
Got this watch in the drab colorway because I just couldn't spring for the Nixon rubber player's watch... Though it was kind of a scrub move and 50 bucks really isnt that big of a deal, the Re-run is real tight looks good, feels great and is way more functional than the players watch. If your active, want something functional, comfy, and to add a lil freshness to your game its a pretty nice pick up.
Green - black buttons:

Easy to read - No complicated hands and dials to figure out =p. Get comments on it all the time. The color is really vibrant - So vibrant that it's almost impossible to find clothes that match - I have to do contrasts but thats fine. I'm about to pick up the orange too.
So I've been comparing prices on this watch...
So I've been comparing prices on this watch for a while and I've noticed that the colour of the screen on this watch is different than the one on Nixonnow.com. The one here seems more red while the one on Nixonnnow.com seems to just be black. I was just wondering if this is actually what I'll see if I order this product, because I would prefer the black screen.
Must be your monitor, the screen looks black on this model.
Does it display the seconds? I need a watch...
Does it display the seconds? I need a watch with a second hand for work but I really like this digital one!
Counts seconds in the main display, and even has a stopwatch too. Revolutionary!
is there a 24 hr feature?
is there a 24 hr feature?
Yes there is. I had to switch it from 24H to am/pm, actually. Came standard as 24H
This guy is much bigger than I expected, but I'm still diggin' it pretty hard.

Face is 1.5" wide X 1.25" tall

To give some perspective, my wrist is 6.5" around, and this watch fits perfectly. If you're looking for a good looking eye catcher, this is it. The silicone band is super soft and flexible, and the watch stays in place with no sliding. Still deciding on whether or not to keep it, but feeling like it's going in my collection for good.