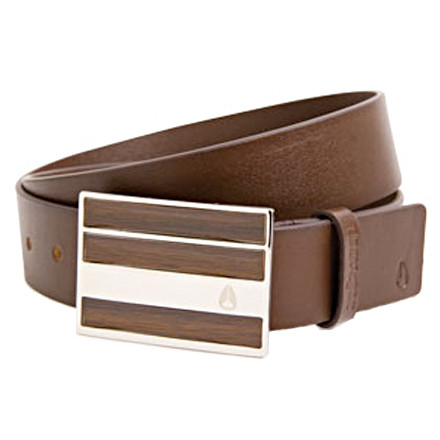 Detail Images
Keep your pants where they belong by wearing the Nixon Rotolog Belt. Always obsessed with details, the guys at Nixon constructed the Rotolog belt with full-grain leather and a real wood or enamel filled buckle. *AVAILABLE FOR US SHIPMENT ONLY.
Unanswered Question
Is the buckle interchangeable?
Is the buckle interchangeable?
So I was looking for a unique belt to wear to school with my uniform and saw this. The dark wood/black looked really cool so I ordered it. Shipping was fast and free and within 2 days I had my belt. Now I don't think this is the fault of Backcountry but instead Nixon quality control that my belt seems to have some defects. The belt itself is fine but the buckle's wood inlays seem to have been laid in a rather sloppy way and are a little crooked sealed beneath the enamel. I'm going to call backcountry about it but from a close examination of the picture, it seems the stock belt too has this problem. Anyone else found this issue?
This is belt works great it holds your pants up and looks sick!
Great belt! I was worried the buckle would be too big but it ended up being a good size. Certainly would consider getting another one in a different color.
Awesome belt. I have both the black and brown and now see its offered in so many more colors which is not good for me... I get a lot of compliments on the belt as well as the matching watch. Thanks for the great deal and like someone said before me, use the sizing chart to find your size, made it helpful. Didnt mean to post this twice...
This belt is sic, I'd definitely recommend it. Here's some tips on sizing:
I am 6'0, 180 lbs, 34in waist, slim. I bought the Enamel Icon in a med. and it ended up being too small, I sent it back to Dogfunk. I went straight to Nixon and bought the Rotolog in a large and it was too big. So, I would recommend getting the Rotolog in a medium and getting the Enamel Icon in a large if you're sizing is similar to mine. I'm sending the Rotolog back to Nixon and am going to trying again.... Third time is a......something.
I was wondering what the small, medium and...
I was wondering what the small, medium and large sizing were for waste size? Ie. Small is 32, medium 34 etc. Thanks
I'm a 31-32 waist and the Medium is just fine. I'm around the middle holes in the medium with the majority of the size holes larger than my waist, but the medium fits perfect. I wouldn't take my chances with the small unless you have like a 27-28 waist.
The belt is 3 in wide. how tall?
The belt is 3 in wide. how tall?
that is how tall, from bottom to top its 3 inches
Best Answer
If you click on the "Sizing Chart", it will tell you the lengths of the different sizes.
i love this belt. it looks cool, plus i got the watch to match. well made buckle, good quality overall.
I picked this up, well I had to have it to match the rotolog watch. I got dark wood and it completely rocks! What can you really say about it, it holds your pants up well....But they're totally pimpin belts! Use the sizing chart above as these belts fit according to that.
Love the belt. It outfits me in so much steez i can hardly keep the ladies from tearing it off. Only thing is, i got a 34 incher (i'm a 32 inch waist, but aging tends to puff us up) and had to punch an extra hole. Otherwise this belt is better than a Tijuana reach around.