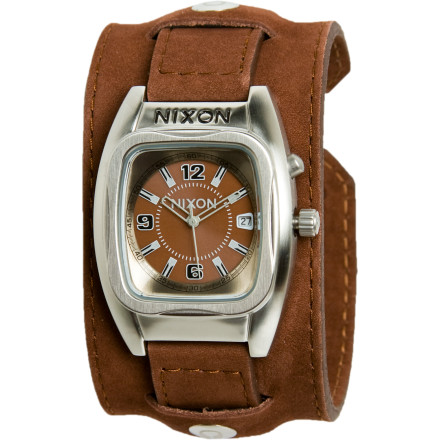 Detail Images
Loud with lots of reverb and feedback, the Rocker belts out a kick ass tune when it's on its stage (your wrist). Every good Rocker requires a good band – like the big piece of thick, soft leather that Nixon cut, stitched, and studded with metal logo rivets so it can rock all night and party all day. The Rocker is water-resistant to 30 meters, shock-resistant, and features Nixon's signature raised bezel design, as well as hardened mineral crystal, a night light, and a date indicator. AVAILABLE FOR US SHIPMENT ONLY.
Share your thoughts
What do you think of the
Nixon
Rocker Watch - Men's
? Share a...
What size are the wrist band pins? I lost...
What size are the wrist band pins? I lost one of them and I need a new one but I don't know what size to order
Hey Wallace,

You'll need to contact Nixon for specs like that. They may not even have that information though considering how old the watch is. You may even want to take it to a local watch/jewelry store and they could probably tell you.
Will I get a warranty for the watch ?
Will I get a warranty for the watch ?
BC has unlimited lifetime guarantee - so, yes.
Unanswered Question
What is the total length of the band and...
What is the total length of the band and watch, end to end?
I have a Nixon watch and its the Rocker...
I have a Nixon watch and its the Rocker .... its the red face and they no longer make it with the red face... I need to find out if I can just find a band because the watch its self is so rare ... I just need a new band.
Hey Doug,

While the face of the watch is rare that doesn't really have anything to do with the band. You should be able to get one just fine. Hit up Nixon at (888) 455-9200...they'll point you in the right direction.
A guy's watch for a girl!
After getting this for my fella in brown, I started coveting one for me. I chose the Black Croc and was worried it would look TOO big on my wrist, but i LOVE IT. You can over lap the leather when you put it on to adjust for smaller wrist sizes (any females!) the larger size watch face and band makes it look dynamic for the ladies!
where i can buy only the band ? i have a...
where i can buy only the band ? i have a watch but my band is busted..
Your best bet is going to be to contact Nixon directly for that, here is their number: (760) 944-0900 and the link to their site, which might have more info for you:

http://www.nixonnow.com/service/contact-nixon.html
Got it for a friend in brown suede
A friend of mine liked the look of the Rocker, but wanted it to look slightly less "rockish" so he could wear it everyday for work and casual use. He was interested in the brown suede. It came in, it is awesome and the brown makes it look more subdued but still quite stylish!
Bought this watch for my boyfriend for his birthday. He never wears watches, so I was taking a bit of a chance with this, but now we won't take this watch off. He is obsessed with it. Quality is great, nice leather band. Not many holes in band to adjust, but it fits his wrist fine, so no worries for him. Awesome.
Bought the all-black version for full price and I never once regretted it. All my friends make comments on it, and I often get people asking where they could nab one. Even had a guy roll up beside me while driving to ask about it.

May be a problem for people with thicker-than-normal wrists though, Im on the third-to-last hole when I tighten it up, and I'd say I've got a fairly regular sized wrist.
Nixon watches look awseome, but this is the second Rocker I have had and they both have died prematurely with no explanation. Same thing happened to The Producer I had. The Jeweler said that both had suffered bent gears when the battery died, and explained that it was a manufacturing flaw. Same thing with the producer.

I'll take his word for it and not order Nixon for awhile.
This is my 3rd Nixon and I absolutely love the brand and customer service/support. So, I was pumped when The Rocker arrived. I was looking for a casual watch that I could wear all of the time. I quickly noticed that it is not waterproof, which completely suprised me. No fault on the part of Nixon though, it is clearly stated on the website that this is purely a style watch. I should pay more attention in the future. But, this is not my main complaint. The first night I had it on my wrist, I was showing it off and bragging on the brand. My cousin asked me for a closer look, so I started to remove it when the clasp broke and I all I saw was my watch fly across the room.....and the pittering sounds of metal dancing across the floor was the only thing that shattered my silence.. All my cousin could muster was, "man I am going to get one of those." Anyway, no big deal, I am certain Nixon will hook me up. This might have just been a QA issue that was overlooked.
Unanswered Question
what is the lug size of the rocker watch....
what is the lug size of the rocker watch. I need a new band and don't know what size to get
Great watch for the price. I definitely like it, and would recommend buying it. I have other Nixon watches I do like more.
I purchased the silver Nixon Rocker watch with the black leather band. Exactly what I wanted and what I expected. Fits great and is probably the most comfortable watch I've ever worn. It's my first Nixon watch but I'm now a Nixon fan. Rock on...
Timeless. Will it ever die?
I've had the Nixon Rocker for almost 10 years. It is the watch that will never die. The genuine leather wrist band does get a little sweaty in hot situations but its proof that a classic will never die.
i bought this watch while i was deployed. its awesome. its held up for years now and i get compliments on it all the time on it.
im a tomboy and its a great watch for either sex.
This watch awesome. I love mine, it's the all black on black leather and I get compliments on it all the time. If you have big wrists I wouldn't recommend this watch tho.
If you like the classic look of the thick leather band,.. well then it doesn't get much better. I love this bad boy.
still waiting on my groupies.
dig the watch. it's comfortable and a different look. i bought the brown, and on my monitor it looked like it came with a black face, but it's actually brown. not the end of the world...but if that's important to you then don't get fooled like i did.
Perfect watch for someone with an allergy to metal...
I got this for my girlfriend (she's very tomboyish ;) who happens to have reactive eczema whenever her skin comes in contact with metal (allergy to nickel). Lucky for her, NO metal part on this watch directly touches skin. On top of that, the design is awesome, and she looks super cool in it. I recommend it :]