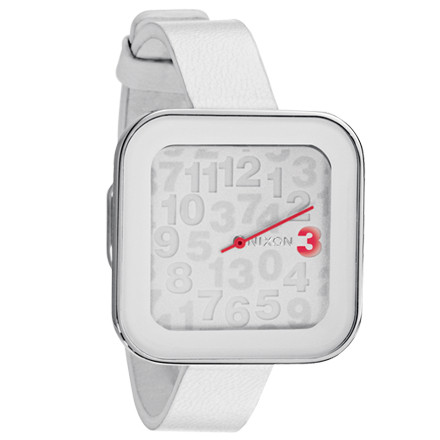 Detail Images
A minimal, modern face and band with a distinctive floating hour disc sets the Nixon Rocio apart from the average ladies' timepiece. As the hour changes, a contrasting color ignites the proper number, distinguishing it from the seemingly random pattern of digits scattered across the dial.
This watch is definitely unique in that there is only one hand on it. The hour is shown in contrasting color (it shows as white on my black watch). It's a cool look for the hour but I do have problems when it is 30 minutes or more past the hour because it starts to look like it is illuminating the next hour instead of the current hour (for instance, at 9:45 it looks more like 10:45).
The face is larger for my small wrist but I like that because it stands out more. I also really like the band. It feels rubber like but it stays in place and doesn't make my wrist sweat underneath it because it is thin.
Cool watch, but only had it for 4 months before the band broke.
Unanswered Question
How large is it on a petite woman's...
How large is it on a petite woman's wrist?
This is a very light watch and when I have it on I forget it's there. Love it. Love the funkiness of the all white with red dot spinning behind the numbers.
I just got the Rocio in seafoam. This watch is sooo sick! I have always been jealous of the Nixon watches for men. They always seemed to be really funky and unique. But this watch is all of that for women. The color is perfect too. I want them all in every color! I will only buy Nixon watches from now on.
I have the Rocio watch in white and i LOVE it, and so does everybody else..I can't even begin to count how many compliments I've gotten on it :)
It says the number illuminates with the...
It says the number illuminates with the change of the hour, but I'm confused by the pictures I've seen. Do the numbers that appear via the contrasting color to act as second hand?
If by second hand you mean the hour hand(as opposed to the one that actually measures seconds),then Yes I think you got it.