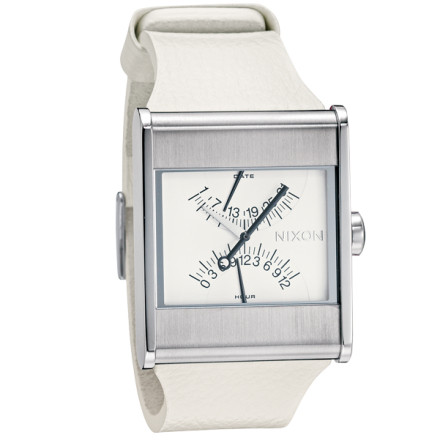 Detail Images
The Nixon Men's R1G1 Watch shakes up the status quo with a fresh, original take on analog timepiece design. The R1G1 feature four hands underneath its sleek stainless steel and crystal housing. Two hands rotate around the dial's center, indicating seconds and minutes, while two hands display the hour and date on semicircle gauges, speedometer style. Nixon gave this unique watch an imported leather band with a single tongue buckle for extra flavor.
Great-looking, but there is no seconds hand
This watch looks fantastic. My favorite are the black ones: one with green dials and the other with orange. They go great either casually or dressed up. Yes, these can go to any formal occasion, as long as you don't mind $1000 watch aficionados eyeing you down. It looks high-end to the casual observer.

Now, the description of the watch is off. There is no second hand. Instead, the colored large hand is the minute, the smaller silver is the hour. There is ANOTHER hour hand on the bottom and a date hand on the top.

That's right 1 minute hand, 2 hour hands, 1 date hand. No second. It would've been awesome to see the seconds ticking away, but alas, no such luck.

In summary, though, a great-looking watch.
i know it's a leather band, can it get wet...
i know it's a leather band, can it get wet at all or no?
R1G1 case is good for a 30 meter dunk, but you'll want to keep the band out of the shower - generally when leather gets wet and dries, it can harden and shorten its overall life.
How does the date work on it? Not all...
How does the date work on it? Not all months last 31 days, does it realize this or do you need to manually set it to the right start date every month?
Just like all analog watches on months with less than 31 days you need to manually set the date on the first.
This watch is super original and unique. I get comments from time to time about the look of it. It's got a cool retro styling and feels super solid and well built. Definetly a good buy. I kinda want to get one in a different color now!
Can you please tell me how wide and tall...
Can you please tell me how wide and tall the face is? Thanks!
35 - 41 MM FROM 3 TO 9 O'CLOCK POSITION
I don't actually have this watch, a good friend of mine got it for his birthday from his girlfriend! I've been looking for the one i want at a good price ever since. But just looking at this watch and seeing the review of 1 star, just doesn;t seem right. I know this watch is good quality, and hope to have one of my own soon! Also have never had anything but high praises towards Dogfunk! Cheers guys!
Had to send it to Nixon to get it replaced...
The watch is beautiful, 5 stars.

The watch DogFunk sent me didn't work! This was my first order with DogFunk and the third item I recieved with my order. Out of the three items I recieved I questioned the authenticity of one watch and this one didn't work.

Step your game up DogFunk and start with your customer service.
this is a pretty gnarly peice of bling. buy it; you'll love it...
, ☃bcs_badge_alumni_label☃
Nixon R1G1
I get compliments on this watch all the time, so I guess that is good. Dual time zones and date hand can be blocked at times by the hour and minute hand but that is my only complaint. The square face design is pretty fresh as well