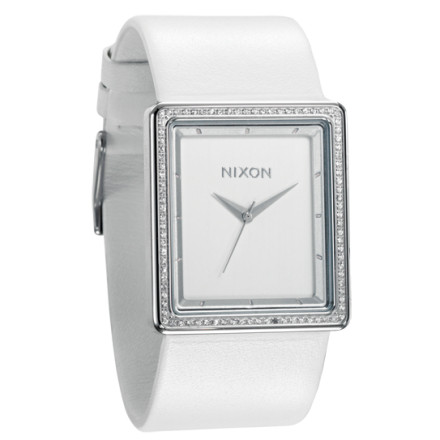 Community Images
Immortalize the style of the Nixon Women's Portrait Watch as you sit for that creepy painting commissioned by your sugar daddy. A custom, stainless steel housing and buckle provide durability to withstand all those hours of Gin Rummy while a waterproof rating up to 100 meters repels Daddy's spit and drool. Japanese 3 hand quartz movement precisely ticks off the minutes before the sleeping pill you slipped him kicks in, and although the Portrait's leather strap may give your Daddy ideas, remind him that you don't do that sort of thing.
The portrait is great (I see my question from 2010 before I bought it on here, haha wow! Had it for a while now) I own it in black.

The reason I like this watch is that is has a rather large face, and the band is awesome. Some Nixon watches has unsealed edges on their leather, which wears... like a strip of leather, ha. But after owning this watch for two years, the thick leather band has not stretched or frayed at all and has retained it's shape perfectly (aside from the hole I use, which has stretched only a small bit)I might have to pick it up in white now that I see it's still available and hasn't gone down in price much.

5 of 5 stars. It's the band that earns that!
What are the dimensions of the face of...
What are the dimensions of the face of this watch?
, ☃bcs_badge_alumni_label☃
Best Answer
21-28mm from the 3 o'clock to 9 o'clock position.
Nixon Portrait - The Picture of Class
I bought the Nixon Portrait for my girlfriend for Christmas and she loves it. I chose the white enamel face with white leather strap. She says the leather strap is soft and comfortable and the larger-than-most-girls'-watches face fits comfortably on her rather small wrist, large enough to read quickly and also make a fashion proclamation without looking gaudy like her guidette friends... It is durable and a great piece to class up the any-day outfit at work (she's works with little kids), and nicely complements her date night fancy-pants and dresses. She gets tons of compliments on it and I'm sure she'll be wearing it for years. I've heard some Nixon watches don't last, but this one isn't showing any signs of wear, tear or giving up it's class any time soon. Until then it's picture perfect.