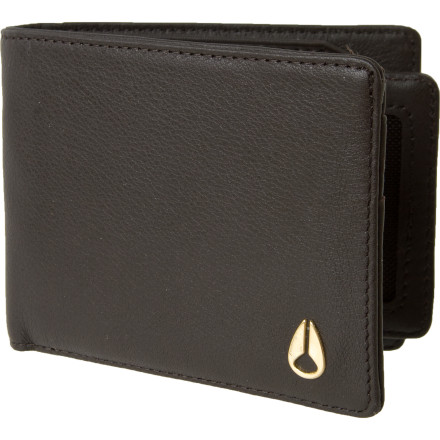 Detail Images
Sometimes you want a low-profile wallet that'll just carry your ID and credit cards, and sometimes you need to bring cash and a full card holster. Thanks to a removable, slim wallet, the Nixon Pass Bi-Fold ID Wallet handles both situations. The removable wallet slips into one of the sides of the Pass Bi-Fold ID Wallet, so you can bring both, just the removable wallet, or just the Pass Bi-Fold wallet.
bought this for my man. He loves it. He had another nixon wallet but when he unwrapped this bad boy for christmas... the other wallet was soon forgotten.

It was chunky when we first used it but within the week the leather started to soften to make it a perfect size. He uses the wallet without the insert.
It holds plenty of cash and cards, and is stylish to boot. My only complaint is that, by making the 'inner wallet' removable, there's an extra tab included in the whole package that adds unnecessary weight and girth to the wallet. The minimalistic wallet inside is neat, but I don't see myself using it very often outside of the entire wallet, so the added bulk just ends up being extra cruft. The material is on par with other wallets in this price range, so if you've ever used a Vans or Nixon wallet before, this will feel very similar.
Love the feel of this wallet and it is the perfect size: not too thick but still holds everything you need. Also like the slip out bar wallet portion that can hold an ID & a credit card or some scrilla when you don't want to carry the whole thing. Perfect gift for my special man friend!
Decent life and good looks
This wallet held up pretty good. I work outside and I was able to get almost two years out of it. This includes camping trips as well. The wallet is stylish and modern and I never felt uncool whipping it out to pay. The inside where the credit cards go is what started to rip and is now completely shredded. But I am pretty hard on my wallets so. If you are not your mileage may vary