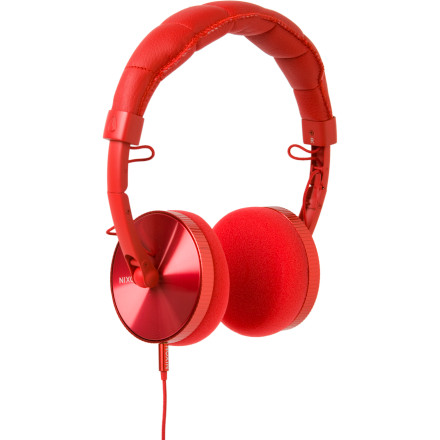 Description
Form, function, and freedom.
Whether you're an armchair conductor, or a bonafide audiophile, the Nixon Nomadic Headphone satisfies your audio addiction. This powerful headphone features a 40mm dynamic driver, a wide range of frequency response, and a 103-decibel sensitivity. The Nomadic Headphone also features Nixon's renowned sense of design—a blend of old and new school sensibilities—so you'll turn heads in just about any crowd you run with.
These phones are super comfy. I didn't mind the fact that they are bulky. The sound quality was pretty good at a low volume. Anything higher than 1/3 up was muddy. I loved the volume control on the right earphone. The cord that comes with it is flimsy and I suggest replacing it. The most FATAL FLAW was the cheap plastic ball that allows the earphones to move around. It broke within a few days of owning these headphones making them completely useless. I wouldn't buy them again. I love Nixon products, they just got it wrong with these.
First of all, they sit really awkwardly on the head. They stick out like some kind of retard helmet making the wearer of the headphones look like a complete douche. More importantly, these headphones lasted about 2 months before they started malfunctioning. I just threw them against the wall and so far that has been the most enjoyable experience i've had with the nixon nomadic.. I'm disappointed Nixon.
will they fit over a protec helmet? my...
will they fit over a protec helmet? my skullcandys kinda do but i want something that sounds better
Best Answer
i wouldnt count on it, ive been trying for a LONG time to find any headphones that effectivley fit over a helmet....companys just dont make headphones that go that big. the only two ways ive found to make it work are wearing a beanie under, taking off the earpads, and then wear the headphones with the headband resting on the back of ur neck. the other way is just puttin the headphones on over the earpads and then wear the band on the back on ur neck
, ☃bcs_badge_alumni_label☃
Medicore
cool design and very portable, awesome carrying case included. Volume control is on the right outermost part of the speaker, turnstyle..very unique and different design. They sound great but are a bit bulky. The memory might no be for everyone, i do not dig...
I ordered a pair of these sexy looking headphones before anyone had written a review about them. I love nixon goods and was very excited to hear that they were coming out with a new line of headphones. My initial thoughts were they seemed sleek and promising, the sound was full and robust. Being that the memory foam ear-pads are a bit thick, I took a glance in the mirror and laughed at how much they stuck out from my head. I felt a bit like Frankenstein with metal protruding from my ears. Props to Nixon, but they could have done better with ergonomics and overall fit. I hope they make a second production of the Nomadic with this in mind.
I heard people can hear the music coming...
I heard people can hear the music coming from the headphones. Is that true?
Probably. These headphones put out a lot of power. It just depends on how loud you have the volume up.
Best Answer
the design also does not cup the ears at all, not isolating or containing the noise...so there will be lots of sound audible from the outside
Good Sound, Flawed Design
I was initially excited about these headphones when I saw them online, and really they actually are excellent if you are looking for a pair of headphones with good sound. All my music sounded robust and it had just the right amount of bass. The headphone also has an innovative volume control in which you rotate the outermost ring of the ear pad.
As for the design of these headphones, the memory foam ear pads are a bit stiff and large. They tend to sit a bit tight against an average side head and have an awkward look to them when you are wearing them. They basically do not have that natural curve around your head like one is normally used to, but instead look as if you are stretching them to fit. They look almost squished when have them on. This might have been remedied with adjusting the length of the sides, but that only lead to the head cushion lifting off my head and exerting more pressure on your ears.
There is also significant sound leakage due to the fact that the memory foam has no device to direct the sound straight to the ear, but it instead in all directions. Consequently, these headphones should not be worn in places where people are in close proximity. I intended to wear them on the bus on my way to class every day, by but the leakage was noticeable even with my Ipod on half volume and I was disturbing a majority of the riders around me.
In conclusion, these headphones have great sound but suffer from design flaws that make them uncomfortable and unable to be worn in public.
not Nixon the nixon quality you expect
I ordered a pair of these from the Nixon website and was really bummed out when I put them on. While I didnt give the foam a chance to break in (so that I could return them) they felt a little cheap in the craftmenship and simply not worth the $120. It is also very easy for the people around you to hear what you are listening to, and may even disturb them if you listen with any volume. looked super weird on my dome also... not to mention I ordered all black and got white ones in the mail. try these before you buy. decent headphones, not $$ genuine Nixon quality
Nomadics live up to the hype ...
The Nixon Nomadic took a little getting used to…but like a new pair of shoes quickly broke in and felt like home. The memory foam ear pieces were a strange sensation at first, and made the headphones feel tight. But after the foam broke in and they molded to my head, they were super comfortable! The padded, leather-wrapped head piece is very comfortable, and not to mention a stylish touch. The sound quality on the headphones is great...the large earpieces give you a "surround sound" feeling when you wear them. The 40mm driver gives the Nomadics some serious volume, and clarity isn't lost when you crank up the tunes using the uber-convenient volume control on the right earpiece.