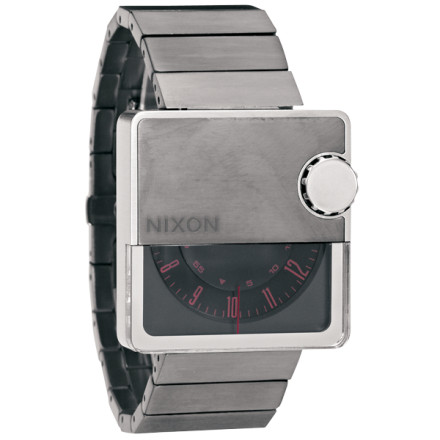 Detail Images

Community Images
No more fiddling with miniature turn dials; the Nixon Men's Murf Watch is designed with an extra large push button screw crown for extra style and convenience. High quality Japanese quartz arm movement ticks around the face which displays hour, minute, and LED light. The Murf's large square face is half covered with a stainless steel giving it a unique look that stands out. Keep Nixon's sharp style safe on your wrist with its butterfly clasped stainless steel band.
My new Nixon Murf!
Familiarity:

I've used it once or twice and have initial impressions

Fit:

True to size
First of all, you need to know that I love Nixon. That beeing said, this watch really stands out from the regular watches. It's difficult to stay out of the spotlight with it. And its classy in a certain way. You can wear it with casual or more formal (?) clothes. Sorry for my english, I'm from Argentina.

About the customer service, let me just say it is awesome! chatting with backcountry employees is really easy and they are happy to help you.

Thank you BackCountry!
So Good.
Familiarity:

I've put it through the wringer

Fit:

True to size
This watch is so unique and good looking. I absolutely love it. No problems with it, only compliments. One thing to note, setting the time the first time may send you into a panic if you don't realize how it's done. You need to hold the dial DOWN and let the hands rotate until you have the correct time, then simply release. I was really confused on this at first, but I love it.
ok this might be a silly question, but i...
ok this might be a silly question, but i just want to make sure before i go through the trouble of returning it...when i received my watch in the mail, it wasnt ticking or anything. i turned the knob counter-clockwise, raising it, and tried pushing down on it and everything...the face has yet to move at all. SILLY QUESTION TIME: is my watch broken? pretty sure it is, but again, i'd like to make sure i'm not just missing something before i send it back and have to wait for the new one to arrive...cuz i REALLY REALLY like this watch.
Best Answer
I had the same problem, you have to push the dial down, and then the hands automatically spin around until you find what time you need. Futuristic!
Is this available in blue/yellow anywher...
Is this available in blue/yellow anywhere?
Best Answer
Hey Mack,

I recommend contacting Nixon @ (888) 455-9200)--they may be able to tell you if any of their retailers are still stocking that variant. Unfortunately it doesn't look like we will be stocking it anytime soon.
The instruction manual from Nixon does not...
The instruction manual from Nixon does not include the murf. How do I get only the murf instructions?
Hey Morris,

The instructions for all Nixon analog watches are the same, that is the correct manual and will guide you through all of your functions.

http://www.nixon.com/manuals/nixon_analog.pdf
Can I change the band on it from stainless...
Can I change the band on it from stainless steel to something else?
yes - but you will have to buy another watch as I have not found any spare bands.
could do some serious damage
I know its a guys watch but i love it... and so does the boyf.

I bought the black one and it is nothing short of ahhh-maaazing!
love the weight of it too. one solid time piece.

two thumbs up.
This watch gets me the ladies. I just put this thing on and the ladies come running. It is like I have a magnet on my wrist. A CHICK MAGNET!!!!!
What are the actual dimensions of the face...
What are the actual dimensions of the face (Height, Width, and Thickness)?
This question is going to need a specific measurement, so try clicking on the 'chat now' button in the upper right corner of your screen and ask the guru. They'll have someone in the warehouse measure it for ya!
I originally reviewed this watch awhile back, and that review still stands. However, I ordered the lime green nixon instead of the white murf and i love it. This watch stands out, everyone I have met raves about it and nobody has every seen it before. With this watch your getting a sick timepiece that will make you standout. If your interested in how it works, the button on the top right unscrews, you push it down and the dials will both spin and your watch will set. pushing the right side of the watch will light it up. Great watch.
Unanswered Question
Hey! Could someone please upload a picture...
Hey!

Could someone please upload a picture with anyone wearing the murf??
Just so I can have an idea about how large it is compared to the wrist.
I like it a lot even if it's a men's watch and I'm a girl

I would appreciate some help.. Thanks!
Watch is hella sick, keeps time, although the minutes are a lil difficult to read but no big ish. Most importantly, the ladies love it, think it the tightest thing ever that you can buy "half a watch" then you explain it and the flip. Bought it cuz my gf said it was sick. Get the gold, it's expensive, but sometimes you gotta pay the cost ta be the boss.
How large is the face on this watch?
How large is the face on this watch?
Best Answer
Pretty sure 1 1/2 inch.
it fits like no watch does./..
I get compliments everyday I wear this watch. Very comfortable and just plain sick. The LED that makes the watch glow is super bright and looks really cool. A definite must for your collection.
Loved the watch not the condition it came in...
I rating the watch it's a no brainer, the style is so different and unwuie it sits above the rest.

However the condition of the watch when I recieved looked feels worn. I called it in and they tried to asure me that it was new. I know "new" when I see it and this watch wasn't new.

The customer service here at DogFunk is shall I say 1 star.
This is a sick watch! it is a little heavy and the band is not exactly what i expected, i think it looks a little cheap compared to the nixon rotolog personally. the face is super cool, i got the white but i think the lime looks better. For a thicker band i would get the rotolog , but both are classy watches that will definitly get ya noticed. good buy if you got the cash, if not hit a rotolog up, save money, and buy yourself new boots for next season.