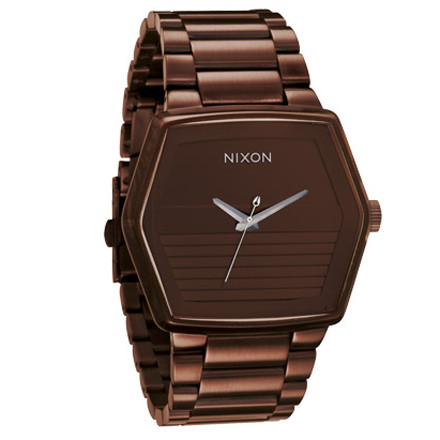 Detail Images
The Nixon Men's Mayor Watch outfits your wrist with the sophistication you need to run your small town into the ground. Nixon made this watch with stainless-steel to stand up to shaking all of those hands and kissing all of those babies. The three-hand Japanese quartz movement keeps you on time for your meeting to build a bridge to nowhere, and the hardened mineral crystal case deflects the scorn of your constituents when they realize you've squandered the town's resources on eight-balls and porn.
Love this watch. However I ordered it in white/grey. Many photos show the top half of the face to be white in this colourway, however it's definitley a light silver. The surround inside the face is closer to white, but still not a proper white. Bit gutted but it's a really cool watch all the same. I liked the look/size of the player but wasn't sure about the diamond. This is a great alternative in terms of size and style.
I love the look of this watch, but comfort wise not my favorite. If you wear the watch on your left hand like i do, the triangle shape plus the screw for adjusting the time can jab into the back of your hand if you write or bend your wrist.
If is you are just wearing to look good, then you are set.
The "all black" watch does NOT have gray and white on the face as shown in the picture. The face is pure black. Disappointing and resulted in a return :(
i got this for my boyfriend and he absolutely loves it! the face looks a little big on his girlish wrist but it's his favorite watch of all time and i love it as well.
Unanswered Question
How big in diameter is the face of this...
How big in diameter is the face of this watch, my boyfriend is big guy and needs a bigger watch.
One of my favorites in my Nixon collection! This watch makes a statement, the face is over sized, but not huge. It looks good on your wrist and people will notice. I got this watch for my wedding and it looked good with my tux, however I rock it with jeans and a t shirt and still get lots of compliments. Only down side is it's built for style, not for telling the time, similar to the Nixon Player you don't get hour markers on the watch. If you know pretty much how a clock works you shouldn't have to hard of a time figuring out the time.