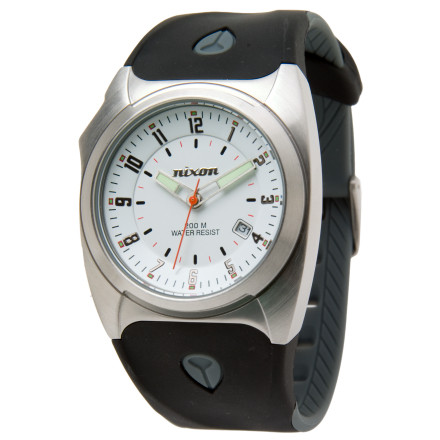 Detail Images
The Men's Key Watch is tricked out with its own custom crown key that unlocks both your time and your surfboard's FCS fins. Nothing's worse than getting to the break to discover a broken fin. Use this Nixon watch's fin key to fix your board and hit the waves before sunrise. As you taste the salt spray, a Ti carbide coating protects your watch from the elements. And since it is waterproof to 200-meters, the Key Watch will keep on ticking even after the occasional wipeout.
I have the key Watch and need a new band...
I have the key Watch and need a new band where can I purchase one
Hey Jimmy,

I recommend trying Nixon directly at (888) 455-9200
Watch date feature isn't great
I bought this watch about eight months ago and love almost everything about it except the date feature. Seems like I'm always fixing the day number on months with 31 days in it. Seems like my watch is always a day ahead of what it actually is, it's also very hard to change the day because the turn knob is very fragile and you need to pull it out just enough....I've broken one watch due to this. This watch doesn't know when the 31st day will be so it is always off....
Amazing Nixon watch for an affordable price!
I own several (10+) Nixon watches. I think the Key watch is one that can be used and abused, and it still holds up. If you just store the key with your case, loosing it isn't a problem. I use this watch daily at work because I got tired of scratching my metal band watches. This watch has held up for the last 5 months and there still isn't any sign of wear or tear. Well done Nixon and thank you Dogfunk.com for carrying such a durable timepiece!
Great watch, band is another story!!
As for watches, this is a comfortable and tough watch, however I have gone through 2 watch bands that cost $25 each time I get them fixed. The rubber simply cracks and then you're history.
Not real thrilled with this watch. I returned mine for a refund. I was hoping I could read this at night but the hands loose their glow so fast you can watch them dim. Also when adjusting the date and time, the whole adjuster pin pulled out with the adjustment knob. I pushed it all back in and it seemed to tighten down again but that made me just want a different watch all together. I think i'll pick a different brand too.
Unanswered Question
Do any of the numbers or number markers...
Do any of the numbers or number markers glow like the hands do?
Got the watch a while ago, works perfectly. Very scratch resistant, dont have to worry about the time slipping and changing. I surf with it often and have never had a problem. Great watch, get compliments both walking around and when i dress up. I highly recommend.
I am not able to change the time on this...
I am not able to change the time on this watch, I have the key and can loosen and tighten it but the time is not changing what am I doing wrong?

PS I love this watch, by far the coolest I have ever had, I love the design.
Yo Tom, while I don't own this watch, my understanding was that the key was used to unscrew the crown - and once it's been loosened to the point you can grip it with your thumb and forefinger, just gently pull it out, like you would with a normal analog watch, and then set it accordingly. Here's the Nixon Analog watch manual:

* http://www.nixonnow.com/manuals/nixon_analog.pdf
Unanswered Question
Did anyone else have a problem with the...
Did anyone else have a problem with the watches waterproofness
Looked at many many watches before deciding on this one. I ordered the all black one and am So happy with my choice. The watch really looks sharp, stands out in a super cool way, and looks right with any kind of dress...casual or dressy. I would highly recommend this watch.
whats the diameter of this watch and where...
whats the diameter of this watch and where is made?
, ☃bcs_badge_alumni_label☃
Best Answer
The face of this watch measures 35-41 mm from the 3-9 o'clock position.
Display fogged after 5 months
Love the look & external durability of the watch (no scratches). I got this as a christmas gift. It has yet to go in the water, but this weekend it looks like a seal blew cause now the display is completely fogged. Nixon wants to charge me $30 + s/h to fix it. Garbage.
What's the illumination like on this? Do...
What's the illumination like on this? Do the hands glow etc.?

Thanks,
Jack
maybe the best watch ever...
if you love nixon then you'll love the key! this watch is virtually bombproof as well as waterproof and comfortably rests on your wrist without cutting off circulation. the unique locking apparatus makes sure the watch will never come undone so you have peace of mind in whatever activity you seek out. this watch gets complements every single time I wear it :)
I bought this for my father in law who is very particular about his watches and he loves it! It is a beautiful design and very sturdy. He loves showing it off!
Bought this watch, its supposed to be waterproof went in the pool the first time and the face was foggy ever since. The watch looked great other than that flaw.
Bought this after the band broke on my old watch. It is not to heavy and there are no annoying buttons to grind into your wrist. I really like the strap lock feature, I wish all watches had this.
Write your question here...I like to find...
Write your question here...I like to find a replacment band for a Nixon Conquer water resistant watch. Can someone help me hopefully find one. It's for my son Inlaw for Fathers day. Thanks
Best Answer
Your best bet would be to contact Nixon directly and they could work something out with you. Here is they're contact info (888) 455-9200
Watch is great, I'm afraid I'll loose the key and will have a hard time changing the time. Otherwise its great, it has a heavy duty strap and is solid on the wrist.
what size is the watch? do you know the...
what size is the watch? do you know the diameter of the face?
39mm. Found at Nixon's website.