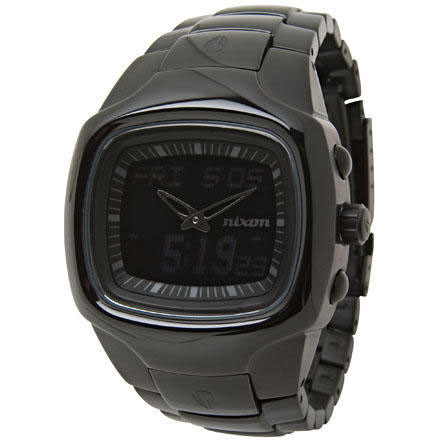 Detail Images
The Nixon Insider watch keeps you in the know with both analog and digital displays, including digital world time access to 24 time zones and 30 cities. Nixon's custom ana-digi time lets you stay ahead of the game while traveling—with the touch of a button, the digital display appears, giving you access to the world's time. Another button quickly hides the digital display during covert operations. The Insider is as tough as it is smart: A stainless steel case and band can withstand moisture ranging from a sleeve full of snow to the most intense surf session. AVAILABLE FOR US SHIPMENT ONLY.
Share your thoughts
What do you think of the
Nixon
Insider Watch - Men's
? Share a...
anyway you guys can sell me an extra link...
anyway you guys can sell me an extra link in black for me please i love my watch and have had it for years but its tight on me now
Best Answer
Hey saruany,

I would get in touch with Nixon directly for an extra link. Below is the contact info.

http://www.nixon.com/us/en/support/
awesome thanks grant much appreciated!
Had this watch for two months, digital face quit working...spent 50 dollars to replace the 5 yes I said 5 batteries inside and it still doesnt work.... refund time.
This watch looks great!! The problem is the digital display keeps resetting itself and I have to keep programming the time and date. Not sure if this is an isolated incident or not, will exchange and find out.
Just returned my insider watch. The silver band above the clock was all scratched up from rubbing on the box during shipping it looked like. Great looking watch though if it wasn't all scratched up. They need to protect them better for shipping, not sure if dogfunk could do anything about it since it was in the nixon box. Also though, went to re-order a new one but all of a sudden they are out of stock, had 13 when i ordered mine a few days before I returned it. Guess I gotta wait till april till they make some more according to nixon web site. Read some other reviews, not looking forward to changing batteries on this thing, yikes 4 batteries!?
This is an awesome watch. It is pretty big... It's bigger than the pictures make it out to be. Specifically, the face itself is really thick. It's not that it's wider on your wrist, but it has a nice bulk to it. It's definitely not flimsy. The analog/digital features is great, and you can turn off the digital part if you like. The only thing I could think of that is a downside is that to see it in the dark, you have to press the button for the light. Other watches have glow in the dark hands, numbers, etc.. Other than that, this is awesome and I am very happy with it.
great watch high quality, however much larger than expected, this is a big watch.
Best Answer
Just the one that comes inside it. However if the battery goes dead you can send your watch back to Nixon and they will replace the battery for you.
There are 4 of the damn things in the Insider! 2 tiny button cells at the top, 2 at the bottom. I guess it's 2 for the analogue and 2 for the digital. Mine died in resort when I was skiing, cost me a forture to replace and the goon knackered the seal. Send it back to Nixon but be prepared to wait!
Yeah actually there is 5, just replaced them.... 2 at the top 2 at the bottom and 1 behind the face under some of the mechanical parts....store charged me 10 a piece so there goes $50 everytime you have to replace them, and if you read the manual it tells you to expect to relace them once a year if you only use the alarm once a day and the light 3 times a day....