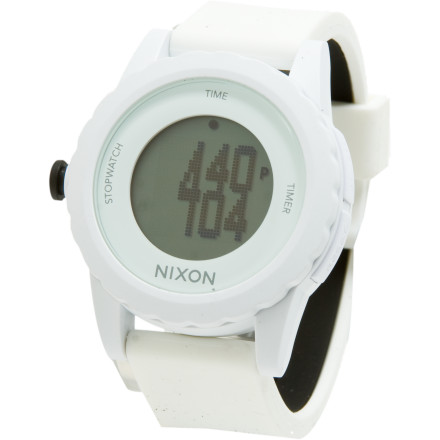 Detail Images
The digital LCD display of the Nixon Genie Watch will answer your heart's most burning inquiries of life with a simple push of the button. Will you win a million dollars? Will you wake up tomorrow with super powers? You ask it a question, push down the side button and the answer will scroll across the screen and then return to its original display.
Digital LCD display is simple to operate and read
Bezel rotates to quickly change the display between timer, timer, and stopwatch functions
Water-resistant to 100m—in case you get caught in a flash flood or something
What do you think about this product?
Have questions about this product?
I got this as a birthday gift (color matches Nixon Trooper Headphones) and I love it! Such an awesome blue color and already has been beat up a bit, but still staying strong and true. The numbers can be seen clearly and I have received so many compliments about it. It fits tiny wrists comfortably and I wear it 24/7. My only complaints are that when you turn it to it's magic 8 ball function, it can take a while for the message to scroll across and when doing that function at night, the backlight only stays on for 3 seconds, so you don't know what the message was to begin with (unless you memorize them based on the first letter of the message). I am a big fan of Nixon watches and I really do love this one. If you are as indecisive as I am, then you definitely need this watch to answer your questions (especially for the question "Should I buy this watch?").
this watch has super cool functions. i like how it's easy to switch between the different modes (turn face ring, like a diving watch!) and the fun "magic 8 ball" function. band is comfy and can accommodate even skinny wrists. i was deciding between this watch and the nixon newton (listed as a men's watch) but will prob go with the newton instead because the face on this one is pretty big... takes up my whole wrist! there is nothing wrong with this watch, i'm just picking aesthetic over function.
Unanswered Question
Would this watch be alright if one were...
Would this watch be alright if one were to go swimming?