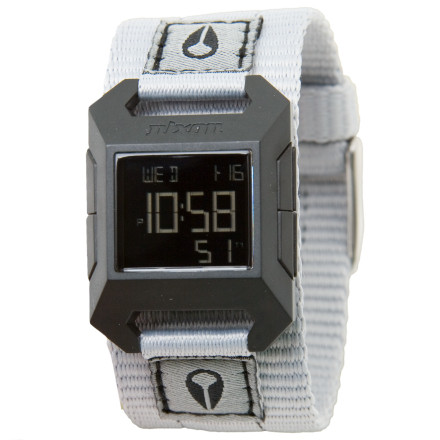 Detail Images
Unanswered Question
how do i change the time and date on my...
how do i change the time and date on my fidelity watch?
So I bouth the watch, my second from Nixon. My first Nixon is cloudy on the lens right out of the box, Makes it hard to see most of the time. This watch, looks good, love the nylon band. But, I could only get it on my wrist on the last notch. My girlfriend took it, cause it was too small for me.
I bought this watch from backcountry in May. Loved the style of the watch, and the webbing band is really comfortable. It's ment to be a smaller version of the Block watch, and it fits nicely on a smaller wrist. However, In September I was swimming in a lake, and the watch stopped working. It looked like water had gotten into the case as there was condensation in the display. The 100m claim didn't live up to surface swimming, handwashing, and showering. I saw a similar issue in reviews, so maybe Nixon should beef up the case a bit. Backcountry rocks in these situations. Instead of dealing with warranty with Nixon, I just talked to the nice folks at backcountry and they took back the watch and gave me a refund. Watch = 2 stars (it was ok when it worked), Backcountry.com = 5 stars.
This watch is sick and it looks good on my wrist. When I first got it everyone asked me about it. But when i took it in the ocean surfing with me right away the screen turned blank and there was some weird liquid in it. Then when I sent a letter to the Nixon company they didn't reply so i just bout an other different watch. In other words don't trust the thing that says waterproof 100 meters.
I bought the Nixon Fidelity Watch this...
I bought the Nixon Fidelity Watch this past winter from backcountry and have been having problems with it. It started to get condensation in it and now you can't even read the time. It says it is waterproof up to 100 meters. I am wandering if there is any warranty or replacement policy through backcountry. If not, do I need to contact Nixon?
Best Answer
You can return anything you bought here at any time for any reason. Get on Live Chat and they'll walk you through it.
Does anyone know the measurements of the...
Does anyone know the measurements of the watch face?
The case is 1 cm thick and screen is 3 cm wide.
Would this fit me even though i have a...
Would this fit me even though i have a small rist.My rist is only about 7 inches (17cm). so i dont know between this one and the smaller version
Yes, this band has plenty of adjustment.

NIX0264- Case size 38.1 x 31.75 mm Face : 20.83mmx 20.83mm Case thickness: 12.7 mm Band width: 31.75mm
I love this watch. It's perfect for boarding as it is light and flexible. The only thing that I don't like about it is the band is fraying a little bit. It has tons of features and is stylish. Would recommend!
I have an 8" wrist... will it fit me?
I have an 8" wrist... will it fit me?
That's going to be tight... this is a youth-ish sized watch.
my wrist measures 7 inches will it fit?
my wrist measures 7 inches will it fit?
nice watch, but a bit small...
I have always loved nixon watches, but I wish when I ordered it, it said youth sized. I'm not exactly a youth anymore, but it still rocks!!!
Great watch, cool design, super cheap. A bit smaller than I expected, but still a sweet watch.
durable classy simple rad
I think this is a great watch. It fits well on my smaller wrist. The other review said it does not have instructions, but it does they are just hidden in the bottom of the box and stand structure. It does have a lot more features than it says it has. A few alarms, Chrono, and timer. I don't think it sits too high of the wrist, so far it's a great watch, and is exactly what I was looking for.
Nice but scratches easily
Pros: Slick design, easy to use.
Cons: Scratches easily - semi-transparent scratches on face and white scratches on watch body.
I actually got two of these for youth boys. They loved them. VERY well made, easy to use and they are very attractive watches. Just like their big brothers.
I got this watch because of the strap/design. I like the look of watches w/ broad straps, but most of them are too big for me. (I'm a small person.) Although this watch is slightly tall (i.e., it sits fairly high off the wrist), overall, it's about as perfect as you can get. The strap is incredibly comfortable. One weird thing: my watch didn't come with directions! And this watch can do a lot of things. It keeps track of two different time zones, it has FOUR alarms, a countdown timer, and a chronograph. It's the most complicated watch I own (and the only one to not come with directions!) It's not too hard to figure out, though. This watch is perfect for smaller people!
Great style, worthless function
I was stoked to receive this watch. I have smaller wrists and most newer watches look stupid huge on me.

I got tons of compliments on the looks and really enjoyed the comfort and interface of the watch.

Problem is, the backlight stopped working after ONE WEEK. With the black LCD, you basically then can't see the display. Not so great, Nixon.

I called them and apparently this is a new model and I assume they're still working the bugs out. I tried to exchange the watch for another model through Nixon and they refused, saying they could only repair the watch. This site doesn't carry the watch I was interested in exchanging for.

I'm gun shy now though, I returned the watch and won't be buying again. Bummer.