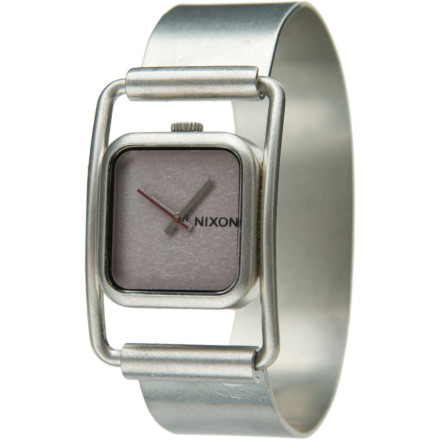 Detail Images
Your wrist doesn't usually horde attention, but with the Nixon Women's Dynasty Watch on, that's bound to change. This sleek timepiece has a unique, sophisticated style. Of course, all that style comes at the price of having no numbers or markings on the face, but we're sure you can figure out, relatively, what time it is.
I bought this watch for my wife. It is awesome. She loves it, it looks sweet and it is super durable. This is our first Nixon purchase and we will be going back for more.
I love this watch. I have it in Black and will get it in Raw Steel one of these days. Really unique clasp system. I get tons of compliments on it. I like to layer it with another watch some days, like the Player. Hot.
I LOVE this watch. It is nice and small for my tiny wrist, and the gold is a perfect color. I wear it daily!
I like this watch, looks good. Have not bought it yet, does any a Nixon dynasty Watch?

Thanks
Sophia