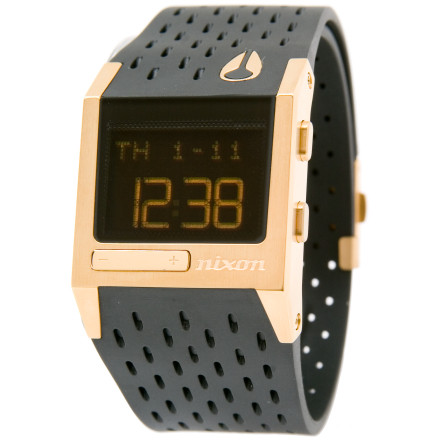 Detail Images
Unanswered Question
how do i set the time on a nixon connect...
how do i set the time on a nixon connect12
Unanswered Question
how do i set time?
Hey, Iam from NZ I want get my old man a...
Hey, Iam from NZ I want get my old man a connect watch, can i get one sent to NZ? if not Iam coming to hawaii in 2 weeks time is there somewhere there I can get it from or you send it. Whats my options?
, ☃bcs_badge_alumni_label☃
Due to vendor trade agreements with Nixon, we can't ship their product outside the US. But yeah, if you can come up with a shipping address in Hawaii we would be able to ship it there.

What Brands Cannot Be Shipped Out Of The US?
http://sales.liveperson.net/hc/s-9551721/cmd/kbresource/kb-7536151431332632007/view_question!PAGETYPE?sp=94&sf=101133&documentid=239527&action=view&VisitorProfile=BCS&MESSAGEVAR!home=no&MESSAGEVAR!cookie=no
this watch is so awesome!!!!
it boosts my sexy level by 10000x's!!!!
how do you set the time on this watch
how do you set the time on this watch
Irwin,The directions aren't perfectly clear, but after I read through it twice I understood the basics. http://www.nixonnow.com/manuals/nixon_connect.pdf follow the steps in the user manual. If if isn't clear tweak this answer saying you need more info.Mahalo, Sumo
Absolutely love the watch, only complaint is that it came with either a dead battery or something and they send 2 replacement batteries... replacing a battery on this watch is like brain surgery!! Discouraging to to have to put a battery in right when you get the watch. Other than that, very stylish TIGHT!!
I bought this watch about 4 weeks ago. I've used it in Europe for two of those weeks. It works very well. The watch features are nice but there are a couple that could be better.
Good stuff: UNIQUE world time, comfortable band, easy access to favorite city times, dual time display.
Could-be-better stuff: 1) "indiglo" style light doesn't stay on very long, especially when you're trying to scroll through the world time cities. 2) world time feature itself: Once you set the home time, the other cities are auto calculated. However, you have to know which of those cities use DST and set each one individually (on and off). Very time consuming. 3) The alarm is not very loud. So it isn't very useful for an early morning wakeup call.
This thing woke me up in time to take an early flight in Berlin, to go hit some powder in Norway, take the TGV in Paris, remind me to leave Vondelpark in Amsterdam and catch a transfer in Brussel... Never missed anything since I got that watch.