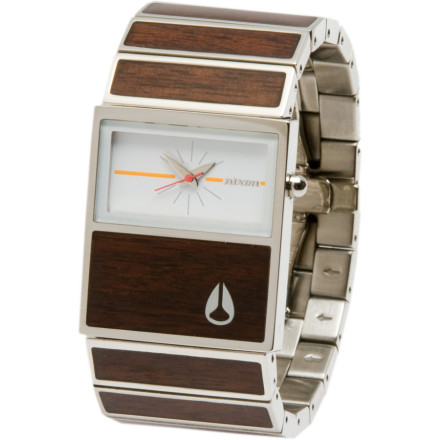 Detail Images

Community Images
When you pair the Nixon Women's Chalet Watch with your favorite wool sweater, a pair of hot jeans and some furry boots, you'll bring Aspen to its knees this winter. The Chalet Watch stays high-class with a segmented stainless steel band that features real walnut wood, bamboo, or enamel inlay and a butterfly closure. This unique three-hand Japanese quartz analog Nixon timepiece along with your stellar après-ski outfit will certainly help you turn heads.. *Available for US shipment only.
I need a replacement link for a white Nixon...
I need a replacement link for a white Nixon Chalet
I have extra white links. Just bought a second used Chalet. Looking for 1 extra Walnut link!
Best Women's watch under $250, Nixon Chalet
By far the best looking women's watch that fits right out of the box for under $250. The construction and modern classy feel to this product puts it above and beyond nixons other competitors. The watch comes with additional links that a jeweler can put in if you have larger wrists.
First, in full disclosure: I love Nixon watches so it would be hard to disappoint (I own The Small Player and The Paddington.) That said, The Chalet (black) is irresistible. It manages to capture an industrial look with the grace and elegance befitting a woman.
A few notes: I have small wrists and I usually have to get a link or two removed from my watches. The Chalet fit perfectly as-is. This is a good thing if you have a wrist the size of mine, but for ladies with larger wrists you'll probably have to get a few links added. The watch comes with extra links but some jewelers will charge $20-$30 to do this which is annoying. Anyway, back to the small wrists. This watch is substantial, the size is like a cuff bracelet so if you're not a fan of large watches this may not be for you... but, it is incredibly gorgeous and sleek so you just might be surprised!
Does anyone know what the light coloured...
Does anyone know what the light coloured green one is called? (sometimes they have a specific name) I've been trying to find it but can't and noticed it wasn't for sale on this site just being used as pictures. Does anyone know where i could find it?
Hi there! Unfortunately, the "Mint" colorway (as it was called) was one of the very first colors that Nixon ever offered in the Chalet, and is thus long since discontinued.
Write your question here...Why did they...
Write your question here...Why did they stop making the bamboo one??!! So sad I lost mine over a month ago and I am dying to replace it! About to get the dark wood I guess...unless someone can help! Kerry
No joke. I wanted to pick up the men's version (the Rotolog) in bamboo but they phased that out, too. Even the Nixon website has taken them down. I'd say your best luck would be to look for one on eBay or something...
how do i change the battery????
how do i change the battery????
I've been trying to figure out the same thing. I've just been told by the store that I bought it from (Watch It! in Canada) that they require it to be sent back to Nixon in BC, which could take a month or more. I have yet to find any shop locally that is willing to try it because they are all afraid that they will dent or scratch it. Too bad that I have to send my $275 watch completely across the country once a year to change the battery.
I just took my watch to a regular jewelry store/ watch repair shop and the guy had no problem changing it. He had a special tool to snap the cap off though so I don't think you can do it yourself... it was only $10 total.
Take it to the Jeweler

I take all my nixon watches (4) to a jeweler/watch repair & they replace it easily & only charge me for the battery. Compared to talking with Nixon directly, id have to send it in (takes about 2-3wks) & pay way more for the replacement + shipping.
Does the dark wood really have a dark logo...
Does the dark wood really have a dark logo or is it stainless like on Nixon's site?
You called it girl, our pic is off. The logo on that one is Stainless like Nixon has it pictured. So kudos to you for catchin that, well get a new pic up pronto.
This watch looks awesome, especially in the hyperpop colour, but the design of the butterfly clasp is flawed. I have a smaller wrist, and every time i bend my wrist inwards, it unlocks the clasp because the bottom part of my hand pushes against the unlocking button. it gets to the point where i can't even wear it because every time i move my wrist it unlocks itself and slides off. sadly i had to return it, which is a shame because it's the best looking womens watch nixon has in my opinion.
it says its on sale for 120...why when u...
it says its on sale for 120...why when u check out it is 199?
Please note the price carefully. It says "on sale $119-199." Then click the Select Options dropdown menu. The individual price is listed next to each color. Turquoise Bamboo costs $119.
The only one that is on sale for 120 is the turquoise color. All the others ar 199.
Picked this watch up on a whim. I'm usually very conservative with my jewelry, but I loved the use of bamboo in this piece. I have gotten nothing but compliments on this. It's a bit heavy, but after a few hours you forget you have it on. It fits like a bracelet, looks beautiful, and holds up nicely. I love this piece, worth every penny and I get compliments on it every day. You will love this piece!
Picture didn't do it justice
This watch is even nicer than I expected in person! It's really solid and high quality. Much less plastic looking than it seemed online -- thought it would just be a 'casual day' watch, but you can dress it up (I got it in 'bamboo'). It's a little chunky (in a good way) but still really feminine. I have pretty small wrists and it fit right out of the box, but it comes with extra links. The way it's designed, it doesn't spin on your wrist, which I appreciate. Definitely worth the money!
this is by far the sweetest watch i have ever owned. it's so worth the money. i have it in black and my two other friends have it in white. we all get tons of compliments on it all the time. and i've never had a problem with it, except that people keep telling me they love my watch! :)
I have several nixon watches and this is my new favorite. To reviews saying the watch is made for a teen wrist: I disagree. I am a 24 year old woman of average stature and it fit me perfectly out of the box. It also comes with extra links in the box. I would say if a regular hair tie fits around your wrist without cutting off your circulation the circumference of this watch should be fine. It is very unique and I enjoy it a great deal.
Love this watch. I have the bamboo version and its beautiful. My only complaint: some days I find its a little bit heavy for my small wrists.
After reading the comment of QnD2694822...
After reading the comment of QnD2694822 #2500, whose white watch has turned yellow, I'm quite unsure if I should order the white chalet. Did anyone of you made the same experience or was that watch just an exception?
Hey it might be the enamel type material on this watch, with the white color being suceptible to yellowing. If you stick with a different (darker) color you should be fine.
see above or check out dogfunks return policy!!! no worries about returns if it does go yellow, so go for it!
I know Nixon always puts sayings on the...
I know Nixon always puts sayings on the back of their watches. What does this one say?
how do you add the links to the nixon...
how do you add the links to the nixon chalet watch-women's???
Nixon makes a specific tool for that purpose. If you go to your nearest Nixon watch dealer they will have the tool and be able to add or take out links for you.