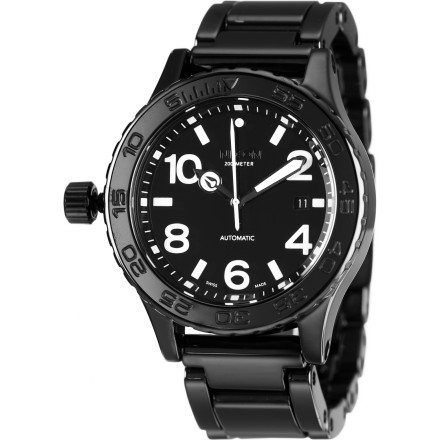 Detail Images
Forget gold, titanium, ubertanium—Nixon delivers the new luxury standard in the Ceramic 42-20 Watch for men. Smooth, sleek, and virtually scratch-proof, ceramic is the new high-performance, must-have material. Slightly smaller than the Nixon 51-30, the 42-20 features a solid ceramic body with a stainless steel skeleton, an external rotating ceramic bezel with countdown timer, and a durable, scratch-resistant sapphire crystal. An Swiss-made, 25-jewel, automatic-winding movement powers three hands and a date function. The custom solid ceramic band, with individual screw pin links and custom solid stainless steel butterfly buckle, finishes off this unique timepiece.
What do you think about this product?
Have questions about this product?
Why would you want to spend $2,000 on a...
Why would you want to spend $2,000 on a watch?
That kind of question is probably better directed at someone who HAS spent $2000 on a watch which, by the way, is on the left end of the bell curve for the prices of luxury watches. That said, the difficulty in manufacturing ceramic to the tolerances used in watch housings is much higher than that of manufacturing steel to the same tolerances, so that's probably why they charge the price they do.
Agreed, $2000 for a luxury watch is considered middle of the road to lower end, compared to Rolex and Piaget
Best Answer
Because that way you're not as likely to get mugged as when you wear your $15,000.00 Rolex out to dinner in Buenos Aires.