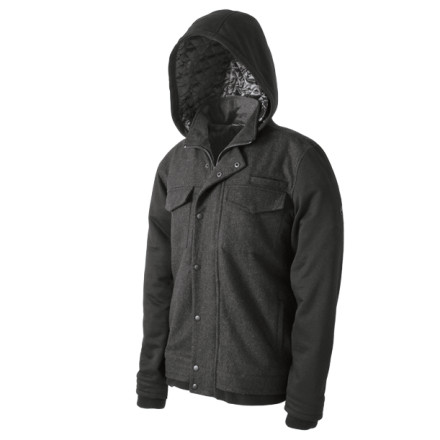 Detail Images
I have been looking for the Brando nixon jacket for at least three weeks now and no matter where I look whether it's on the world wide web or hittin the stores it is absolutely impossible to find ONE jacket! seriously in the 21st century what's going on here?? are these jackets hand made in some hard to reach country like Atlantis or something? Even the vendors in the stores that sell these jackets know before they are sold out that they are going to be gone in a matter of days if not hours. so why can't Corporate headquarters of all people anticipate the quick rate that these jackets are going to be sold at? it almost just seems like they are too complacent with the market and the people that buy their products. at least in this case it seems that way, i mean for crying out loud it is the middle of winter and the jacket is a winter jacket more or less; is it not? So I guess to whom it may concern I just want to know what the deal is and when we can expect a better more appropriate shipment of this product.
Unanswered Question
why is it so difficult to get one of these...
why is it so difficult to get one of these jackets? like they just decided to stop making them or something when it's obvious that they are so popular...
Unanswered Question
Medium arriving soon?
The picture doesn't really show how different the sleeves are from the center of the jacket. If the sleeves were the same material this would be an awesome jacket but with the way it is all you can see is a vest with sleeves. Sleeves are a sweatpant material. Not a good looking jacket in my opinion
Unanswered Question
How thick is this jacket? What temperat...
How thick is this jacket? What temperature/conditions would it be good for?
Can you please get more of these in...
Can you please get more of these in medium?
We have some on order and they should arrive early December. Thanks
I've been a fan of their watches for awhile, and have owned a couple Nixon t-shirts from time to time, but never any coats or sweaters. Loved this jacket almost instantly after it came in. Fit and finish are spot on, I got a small (5'10" 140lbs) and there is still room to layer if needed. Wouldn't really classify the jacket as "slim" like it's listed, fit is pretty similar to my North Face jackets of the same size.

Dry clean only is sort of a pain, but i'll just do my best to keep it clean haha.