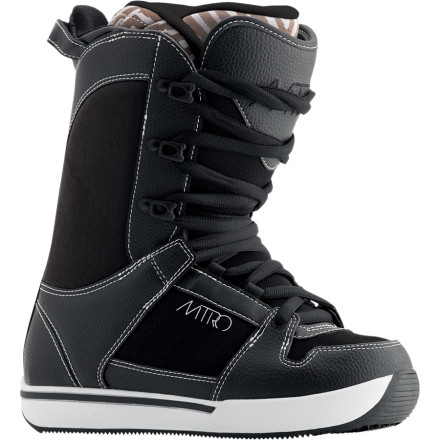 I just got these boots in the mail. I...
I just got these boots in the mail. I like the lace-up system. How much do these pack out? I have wide feet and my toes are completely squished, and very painful. They are a little bit on the short side, though I can get my feet into them. If they pack out a bit I think they will be fine, but I am not sure if I should order 1/2 size up.
I don't know the specifics for this boot, but generally for me boots will pack out enough to be comfortable. I had your dilemma (feet were very sore when done riding) so I ordered a half size up. After half a season the bigger boots were too big and my feet were sliding in them. I wore the smaller ones about 5 more times and they packed out and fit perfect now. You don't want your toes totally squished, but you should be able to feel the end of the boot with your toes and when they pack out they'll give you a bit more room. The width should pack out too, I've got wide feet and I've never had issues with boot width after a boot packs out. Good luck.
okay im a beginer snowboarder. i wear a...
okay im a beginer snowboarder. i wear a size 7.5 shoe, so then is that the size of boot i wear or what?? help.
Its kinda like getting a new pair of skates. You want them tight, but not too tight as to cut off circulation or kill your toesies. Its all about the company who makes the boot, and also if it has a heat mouldable liner in it. Picture it like this; In a Ride boot im a 13, but in 32 boots im a 12 or could even squeeze into a 11. So the best way to get the size you want is to go into a shop and size them up. You can still buy from Dogfunk, but go size it up just to be sure. BUT generally whatever size of shoe you are, thats the size of boot you're gonna rock. It will really only vary about a half size to a full size. Plus if you order a 7 from Dogfunk and they are too small, then send them back for a bigger size no questions asked. Love Dogfunk for that. Once you find a company that fits your liking, it will only get easier to choose the fit. You gotta start somewhere right? Hope this helped :)
I love these boots...they are very supporting and snug around the foot....almost as if they hug your acchillis heel and dont let your heel lift.

the tie up system is pretty sweet....

no complaints so far but only got to use them like 3 or 4 times before the season ended.