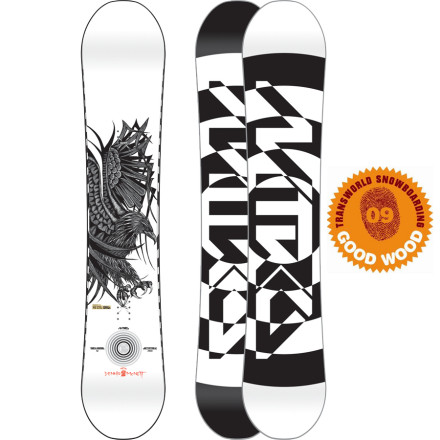 Detail Images
, ☃bcs_badge_alumni_label☃
Wow, Don't let the price tag fool you
I personally have underestimated this board over the last couple of seasons. I kind of put it in the same class as a Burton Custom and never really gave it a chance. But when I took it out a couple of weeks ago I was very surprised at how fun this deck really is.

The Team is very snappy in the nose and tail, very fast edge-to-edge when carving, held an incredible edge but wasn't grabby, the base was fast in every condition I took it through (Groomers, Crud, Pow, Ice).

The best comparison I can make to another board would be to the Burton Un...Inc. This board was very similar to it, but held a better edge and was a bit snappier while still maintaining that playful feeling.

This is a great board to pick up if you're an All-Mountain rider that is looking for a board that will handle anything you throw at it. (Grab the wide if you have a 11 boot size or bigger).
This is a great all around board. I had the opportunity to try it out in several different elements (park, powder, ice). It is stiff enough to hold its edge at high speed and the sharp edges manage to hold over a little ice. Being stiffer it took a little getting used to in the park, but after some adjustments it performed satisfactorily. I have to say that it wasn't very good in powder, it's not really designed for that aspect of "all mountain" riding. I'll be watching out for sidewall delaminating. Overall if you want a fast, light, affordable all mountain (minus powder) board with some great artwork and a 2 year warranty, the Nitro Team Series is a safe bet.
nice pop, sharp edges, broke quickly
for the three weeks i had this board, i had a good time on it. the pop is substantial and it was nice and light, so good on the freestyle end. within two weeks though, my sidewall delaminated in two places, behind both my bindings. i definitely couldn't keep riding on it that way so i had to return it. the edges were pretty sharp and would catch alot anyway, so i'm pleased with the new board, the gnu chb series with magne traction.
I was very excited to get this board, I rode the same deck (Nitro as well) for 12 years and it was time to get something contemporary. I got the 162, was torn whether to get the wide or not-I wear a size 11, got the regular stick and didn't have any toe/heel drag whatsoever. Don't listen to anyone who tells you that you should wax it first-the factory finish was lightning quick and the edges are super sharp. It's going to take getting used to, but it's definitely a kind board!!!! Thanks Manger for the sis deal
Year after year the team is always a huge board with a good price. I like Dennis McNett art and now i like more the team. This is a all mountain board go to everywhere. It's not too soft board you can take speed and she keep the carve but it's not too stiff board it's don't break your leg, the shape is perfect.
This board, like mentioned above, is the board that covers everything amazingly, not to mention in has an awesome two year warranty, and awesome art on it by dennis mcnett. This board is a directional twin, which means it will do the switch riding but the directional part of the twin shape means that it can be ridden on big mountain, pipe, and big jumps, unlike most park decks like it. It has a dual degressive sidecut, which means that its a mellow turn in and out of the nose and tail, making it easy to turn, but when you get to the middle of your turn and want it to, it will get on it and turn as hard as you want it to.
Just rode this board at camp. Loved it! From what I understand the Nitro Team board has won the good wood test for the last couple of years in a row. After riding this board I see why. I rode this in all conditions both in park, pipe, big jumps and rails and it did everything I asked it to do. The flex is perfect, Mid to mid soft. It had pop right out of a dream. I also rode the K2 darkstar and jibpan and loved this board so much more. If you're looking for a board that can ride it all from the mtn to the park the Team is it. I just picked one up and am looking forward to a great season.