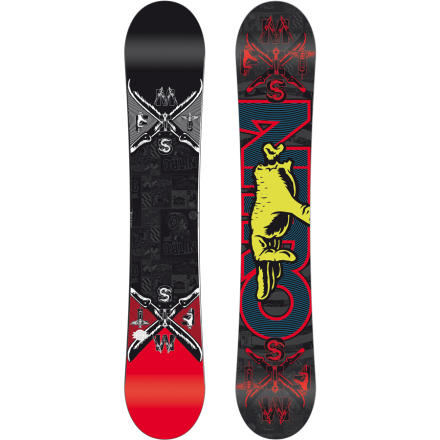 Maybe it was just the one I got
My Misift shattered on me about a season into owning it. I noticed the sidewalls were coming apart from my base a little bit after I wiped my deck down one night. I took it to Whiss a few days later as I was goin on a trip. Prob not the best idea in hind-sight. First day in Nintendo park and my sidewalls completely exploded on my back heel edge of my right foot. I was not happy at all. I ride hard, but I took it easy as I didnt want it to separate goin mach 12 down red chair lol. But unfortunately it took a lot less for that to happen. I dont 'bonk' or tap any feature, so it confused me as to why it broke in such a way. Obv there is to be some wear and tear, but not like that and not in that spot. It was a good board when I first got it tho, and hoped I would have gotten atleast 2 seasons out of it. Naaaa, definately didnt happen. Maybe I just got a lemon, but it has totally turned me off of ridin nitro boards. So for riders who like Nitro and for Nitro's sake I hope they corrected this problem. Im not down playing Nitro, but with my experience with the company, I would prob not go back
is waxing not needed for previous models...
is waxing not needed for previous models of the nitro misfit as well?
It is a low maintenance base, still sintered though, you will still need wax.
hi, just wondered about something. do you...
hi, just wondered about something. do you really need the board to be 162 cm if you are over 100 kg? it says so on the sizing chart, i usally have my boards about 157/158 cm. does enbody now if that has much to say. i`m 183 cm tall and 103 kg. so how long do my board need to be, and witch binding is best for this board?
size and weight dictate flex. so if you are a lighter guy on a longer board its going to ride a little stiffer than if you where on a shorter board.
the misfit is one of the most aggressive freestyle boards out there... it is meant to charge at jumps at top speeds and fly out of the pipe... it can mash through pow and land the most insane backcountry jumps that there are... this board is for all of you riders out there that just use the park as a training ground to learn new tricks for the massive gap in the backcountry... this board doesnt like to mess around or ride slow... its a board meant to take the best riders out there to the next level.... with a directional twin shape to give it a lot of versatility and ballistic impact panels under foot to strengthen the board where it matters most... a standard camber for stability and snap and a tri progressive sidecut to make switch take offs and landings a bit easier... it also comes with rock bands which are bands made of basalt rock mashed down into bands to give it more strength and snap... this board is the board of all boards...