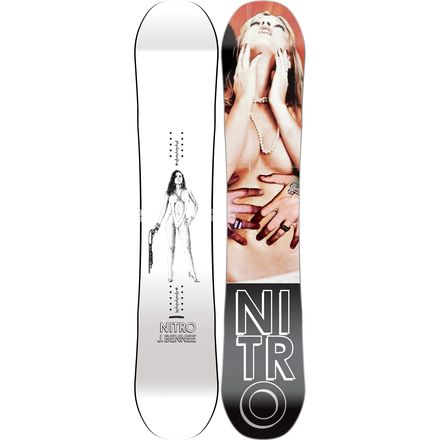 Colors
Description
Press and pop with effortless precision.
Justin Bennee lays down some of the craziest grinds and most outrageous drops in the game, making incredibly difficult tricks look effortlessly smooth. His weapon of choice for rail and park slaying? Of course, he rocks the Nitro Justin Bennee Pro Model Snowboard. This true twin deck is based off the popular Bad Seed Snowboard, injecting a loose, playful flex into your freestyle and rail riding with the locked-in feel of LowRider camber. LowRider camber allows you to ride a medium-soft deck without washing out on landings or slipping out of presses, thanks to its camber profile that's slightly less aggressive (less rise at center) than traditional camber. Don't just take our word for it, according to Bennnee, LowRider Camber provides "...pop like a motherfu#%er and is ready for anything you put in front of it."

Inside the guts of this street and park slayer, you'll find a snappy PowerCore II core that's composed of tip-to-tail poplar with beech stringers for added reinforcement from heavy landings. Bi-Lite laminates give the Justin Bennee Pro Model a loose torsional flex that's ideal for grinding, jibbing, and spinning off small-to-medium sized kickers. Most impressive with this deck is its ability to hold an edge, especially considering its loose, playful nature. You can thank the board's Dual Degressive sidecut and Power Pods, which give each edge two additional contact points for aggressive edge hold on icy snow and sketchy terrain. These Power Pods add extra width under each binding zone, helping those with bigger feet (up to size 11) ride without annoying toe drag. Additionally, this board is great for grinding with its beefed-up RailKiller Edge, and its Sintered Speed Formula HD base is wicked fast, allowing you to clear street gaps and freestyle features without a hitch.