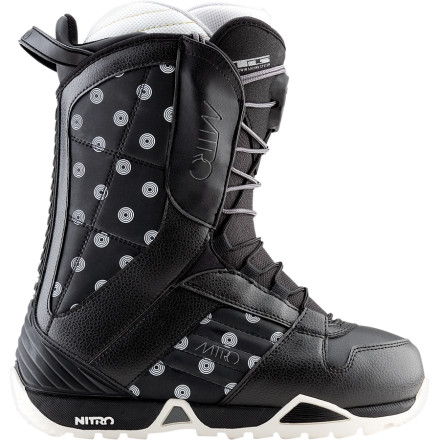 Detail Images
The lacing system on this snowboard boots is just too busy!! Too many laces to tie and the foot entry is so narrow and tight even if you loosen up the laces. Not a keeper. You spend more time lacing it.
Bought these for a christmas present and am very happy with the buy. Easy on/off and great for the newbie boarder.
Unanswered Question
i wear a W-10 would the 9.5 be uncomfortable...
i wear a W-10 would the 9.5 be uncomfortable or would it pack in and fit?
the nitro's are nice they fit snug around my heel and i love the lacing system i didn't have a problem breaking them in at all. i love the design on then too, i've been over all pleased with them!
good fit for a low price....
all you girls out there that are looking for that boot that isnt really high priced but doesnt lack in performance, look no further than this boot... the TLS lacing system is the same concept system that the higher end boots in the mens and womens line carries with just a little different liner, with an awesome out of box fit, so the price isnt out of range.... this boot also comes with the same 2 year warranty so it still has the same integrity as a high end boot so you dont out grow the boot as you progress through different levels of your snowboarding career...