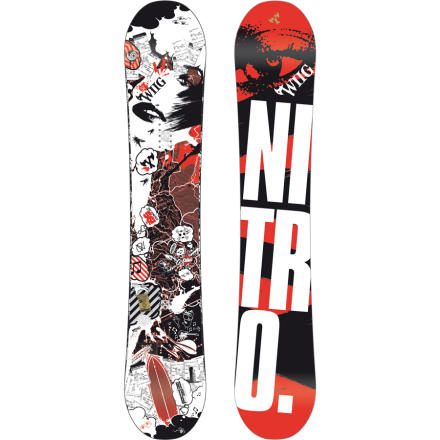 What do you think about this product?
Have questions about this product?
Sidecut is different, but great when you get it dialed
This is a great board, but there is one thing that you do need to know before you pull the trigger and buy it up or you're not going to like it when you take it out the first day.

Your average snowboard sidecut works like this, Mellow to enter a turn, Aggressive to hold the turn and Mellow to exit the turn. The Wiig is the exact opposite, Aggressive to enter the turn, Mellow to hold the turn and Aggressive to exit the turn.

The first time I took this board out I hated it, no one clued me in on the sidecut change up and it was annoying. But after I got an explanation of it I was able to adjust my riding and realized how fun this sidecut is. It really allows you to be aggressive turning coming off of a jump or spin, so you can instantly switch it up or get your dominate foot back out in front without hangups and edge catching.

If you're aggressive after tricks switching it up to set up for the next rail or kicker, this sidecut is something that you should really consider as I haven't really heard of another deck on the market that is offering up this kind of feature.
N/A
☃bcs_badge_alumni_label☃
for all of you guys out there that need a board that can ride through all of the biggest parks, here it is... i mean come on, if andreas can ride this, then it can withstand the most brutal beatings out there... have you seen him ride? this is one of the few true, pro models out there... what i mean by that is that its a board built the way he wants it built... so its a unique board for his style of riding... this board has a really fast base for any size jump in any conditions... it also is a mid wide so its a better floating board and not so twitchy... the sidecut on this board makes it very quick in and out of turns for the optimal set up time in between jumps and has a standard camber so it pops like a trampoline... this board is super fun and not for the faint hearted.. so if you like super stable, bomb proof boards that will land anything then look no further...