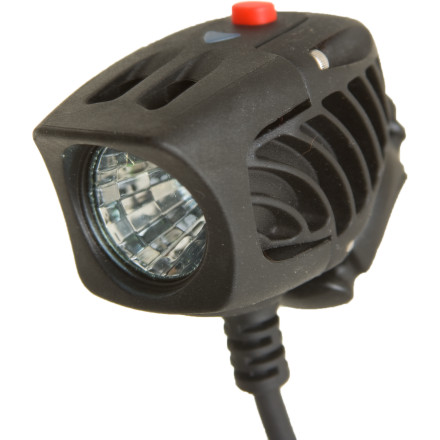 Detail Images
If you do enough night-time riding to warrant investing in a serious lamp, but don't want to carry around a heavy-hitter like the Pro 1500 LED Race Light, NiteRider makes the MiNewt Pro 750 Light just for you. You'll be astounded at how tiny yet how powerful this system really is.
NiteRider uses super efficient CREE emitters in the MiNewt Pro 750 Light. This is how they manage to create a light that pumps out 750 lumens even though it's about the size of a plum. You'll be thinking to yourself that it's a plum of a light after seeing how intuitive and practical it is. The power control is located on the lamp unit rather than on the battery pack. That means you can make adjustments mid-ride without needing to stop and fumble with the battery, no matter where it's located.
The MiNewt Pro 750 Light has four power settings that allow you to chose how strong you want the beam, and consequently how long you want the battery to last before needing to be recharged. At the highest 750 lumens setting, you can count on having 1.5 hours of illumination. With the lower settings you get a slightly dimmer beam, but longer run times: 2.5 hours at 500 lumens, 5 hours at 200 lumens, and 10 hours at 100 lumens. The Li-Ion battery will give you reliable and predictable run times and will take a mere three hours to recharge fully.
The battery comes with an indicator so that you'll know when it's time to recharge the unit. The NiteRider smart charger will make the process a cinch. Nite Rider includes an extension cable in case you need more length between the lamp and the battery pack. The lamp unit can fit on all handlebars up to 31.8mm in diameter. Weighing in at 230 grams for the whole package, the NiteRider MiNewt Pro 750 Light is a perfect option for no-fuss, rapid mounting onto the handlebars.
Editor's note: also included with this light is a three-hour smart charger to keep your lamp juiced, and an extension cord so you can mount the lamp unit further from the battery if you see fit.
Great light for the money!
Familiarity:

I've used it once or twice and have initial impressions
I bought this light primarily to use as a helmet light, especially for the trails. I've had the older USB MiNewt in the past for commuting. For the past 5 years, I've mainly used Gloworm lights ffor riding the roads at night. I was a little skeptical to how a mainstream brand would compare to some of the newer and smaller start ups. I knew this would at least be a decent light, and couldn't complain about the price. I've done a couple of rides with this light and can't complain. Good output and decent spread. The extension cord is long enough to reach enough from the helmet to the jersey pocket. My only complaints are that it doesn't use an O-ring mount for the bars and the wires connections are hard to connect. Otherwise, a very nice light!
Unanswered Question
How long is the chord from the battery to the headlight?
Amazing light!!!I run this on the handlebars, but it will easily mount on your helmet with the supplied mount. This baby will light up the trails!! Have you ever seen a police helicopter with its searchlight full on? This light gets pretty close to that. You can also use it as a heater in the winter! During the summer it does run hot, but will dim if it starts overheating. This only happens when your stopped or going extremely slow. Battery life is as advertised. I also run the Stella 300 mounted on my helmet. Niterider also makes what has to be the brightest taillight I have ever seen, the CherryBomb. Highly recommended!
Is this light helmet compatible? From the...
Is this light helmet compatible? From the pictures it looks like it may be.
I just bought this light, it does have a helmet mount that is included.
I've had NiteRider products for over 10 years, and they just keep getting brighter, lighter and cheaper every year. This light is half the weight, about 50% brighter for about half the price I paid 2 or so years ago for my TriNewt! Great value! No other lighting systems come close to what they offer.