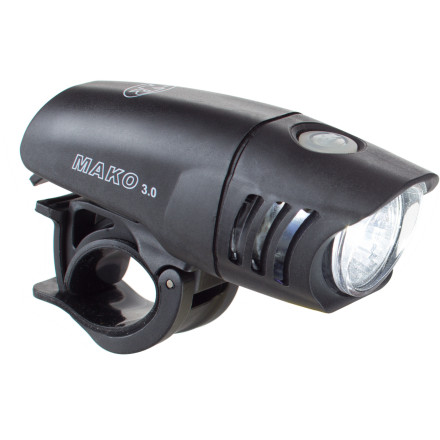 As much we want to believe that we'll be riding trails every night of the summer, the reality of the matter is that we'll be riding to the grocery store more often -- sad but true. And while 1000 lumen headlights are superior for the aforementioned, a lower output light is better suited for the latter. This is where the NightRider Mako 3.0 Commuter Light comes in.
NightRider designed the Mako 3.0 around a single Cree LED light source. It has a maximum output of 0.3 watts, or in more recognizable terms, 150 lumens. Additionally, the Mako 3.0 has simplified the annoying experience of scrolling through multiple output modes by incorporating just two. There's a high mode that uses the light's maximum lumen output on a steady beam, and then there's a flash output that will increase your visibility on the road while conserving the battery life. This is important as the Mako 3.0 operates with two AA batteries and is not rechargeable. But, impressively, the light has battery life of 50 hours on high and 100 on flashing.
And to cover all of your safety bases, the Mako 3.0 features NightRider's Gill system. Basically, these are a system of 'vents' along the sides of the light. Once the light is illuminated, a bright Red light is emitted from the gills, making your presence known to any motorists within 180 degrees of the Mako.
The NightRider Mako 3.0 Commuter Light is available in the color Black and in one size. Each light includes batteries and a quick-release handlebar mount.
What do you think about this product?
Have questions about this product?
I got this for my GF and i ending up using it. I have the 600 lumens but i rather use this for my normal biking at night
Wanted a cheaper light for the early morning commutes and this fit the bill. Easy to use, decent beam and the flashing has kept me alive. I like that you can use AA batteries because I always forget to charge lights.