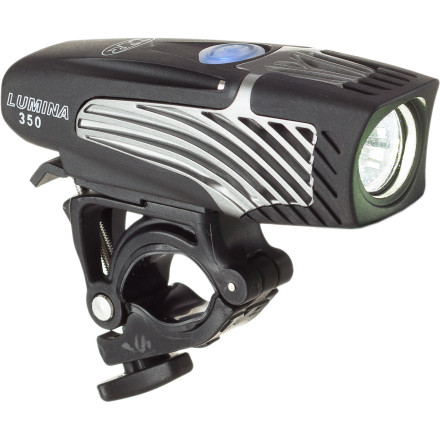 NiteRider introduces the Lumina as the everyday, rough-road lighting solution in its highly popular cordless series. Whether you're commuting in the city or riding trails at dusk, the Lumina 350 Light has a lumen output to will keep your path illuminated and make others aware of your presence.
The newest light from NiteRider, the Lumina is smaller and lighter than lights with external batteries. The battery and light are housed together in a self-contained Black and Silver body that saves weight by eliminating extra cords and straps. With the same power output as other NiteRider 350 lumen lights, the Lumina casts a broad beam to light up potholes or any other unseen hazard along the way.
The light has four solid light levels -- high, medium, low, and walk, plus a flash mode that lets you adjust the brightness during your ride. Depending on your setting, the light will last two hours at 350 lumens, four hours at 200 lumens, six hours at 125 lumens, and 21 hours at 30 lumens.
The single-piece construction of the Lumina 350 not only looks fabulous, but to avoid a mid-ride blackout, it also protects the battery from volatile weather. The newly designed handlebar mount also adds to its versatility. The quick-release mount holds securely in any riding condition and accommodates bars up to 31.8mm in diameter.
The NiteRider Lumina 350 Light comes with a USB charger and takes about 4.5 hours to reach a full-charge. The entire assembly weighs in around 172 grams.
not built sturdy
Familiarity:

I've put it through the wringer

i've had this light a little over a month, and it's already not charging. i'm soooo pissed it's broken already. i was borrowing a friends 650 before i bought this ,which was super nice & bright so i'm v. familiar w/ NR lights. i'm blind as a bat @ night, so i'm still in the market for a good light- sadly NR's aren't it.
Does this light come with a helmet mount as well?
no it doesn't. just handlebar mount.
perfect little light
Familiarity:

I've used it several times
I have the 750 version as well that I use a majority of the time but this has been a great backup or if i want to really add to my existing setup. battery life is very good and easy to charge from the usb cable. I would recommend more lumens for more hardcore night riding.
I misplaced my instruction sheet for this...
I misplaced my instruction sheet for this light. How can I download a copy?


Best Answer
Hullo Joan, thanks for the question.

Here's a link to the PDF instructions.



http://www.niterider.com/wp-content/uploads/2013/08/Lumina-650.pdf
quick release-able and bright
Familiarity:

I've put it through the wringer
The fact that this light puts out 350 lumens, charges on usb and doesn't need a separate battery is pretty sweet. This makes it perfect for throwing on your bike when popping out on errands and can't leave $100 of light sitting outside (aka: bar trips) but you still don't want to get mowed down by cars. I just pop the whole unit off and throw it in my pocket, then toss it back on when it's time to ride.

My only complaint is that there is enough play in the mount that when riding on pretty bumpy roads the beam doesn't stick in one place. But couple this with a decent helmet mounted light and this doesn't really matter much.