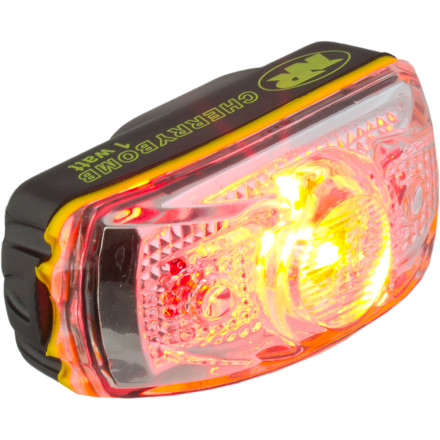 Detail Images
Description
Get lit and stay alive.
With the CherryBomb 1 Watt Tail Light, NiteRider has your back. For an evening commuter or after-work trainer, being seen from the rear is perhaps more important than being visible from the front. After all, you can see what is ahead of you, but it is an act of blind faith that whoever is coming from behind will see and avoid hitting you.
NiteRider incorporates a multi-directional collimator to focus the light from the LED and to disperse it to the sides of the rider as well as the rear. They have also made use of a customized reflector that will keep you visible even when the taillight is off.
The NiteRider CherryBomb 1 Watt Tail Light has pocket clip and bike mounts so that you can have several options for attaching it to your back end. It offers a flash mode and has a run time of up to 100 hours, and it uses three standard AAA batteries. At just 76 grams, you can't possibly have an excuse for not being visible.
Unanswered Question
Does this mount vertically or horizontally to the seat mast?
BRIGHT
Familiarity:

I've used it several times
Daytime this is barely noticeable, it's not catching anyone's attention that is a block away.

At night.... put this on the caboose, you don't want to stare at this bad boy. You can see this light from a few blocks away.

You can use it on your seat post, or clip it to a piece of clothing/bag.
Be Seen
Familiarity:

I've put it through the wringer
This is a very very bright taillight and is well worth the extra few bucks to be seen. Battery life really is incredibly long as well. An absolute must have for night riding.
Not for daytime use
Familiarity:

I've used it several times
I guess its called Niterider for a reason.....its good for riding at night. I find it to be totally useless during the day. The strobe and solid pattern are all but invisible in daylight. I have seen several tailights out there with super bright LED in the middle of the day, only wish I could have caught up w them to find out what model/brand they were using. The first one I ordered was defective and I sent it back, I should have left it at that. Probably a great light for the dark, as advertised, but have not tried it in that venue. THe clip is secure, and the on off operation is simple.
Nice
Gender:

Male

Familiarity:

I've put it through the wringer
I was wondering why i was paying 35 bucks for a night light but once i received this little gem and turned it on i see why. Nice and and compact and can be used to clip on jersey or on rear chain stay along with seat post. Only thing i don't like is its made in China but other than supporting the enemy this light is awesome.
Blinds the riders behind me.
Familiarity:

I've used it several times
I have used the light maybe eight times thus far. It is supper bright, the rider behind me the other night asked me to turn it off or ride behind him. The clip keeps the light clipped securely to my saddle bag. I highly recommend this light to anyone who rides after dark.
BRIGHT
Familiarity:

I've put it through the wringer
When my rides kept getting later and later I knew a decent light was needed to keep myself safe on my rides. I knew the Cherry bomb from NiteRider was the only way to go. This thing is BRIGHT and will make you visible even at the busiest of intersections. Mounting was super simple on my seatpost, but also has a clip if you want to throw on a bag or pack. Not necessarily as sleek as other rear lights, but it is hands down one of the brightest.
I've used this for about 6 months on my commute in Seattle and it is great! Not technically waterproof I don't think but I ride everyday including over the winter and have had no issues at all! Great bright light that I highly recommend.
Two and a half years of commuting and the original batteries are still kicking.



Still as bright as day one.



I commute year round in the sloppy snow and salt of Michigan and nothing has leaked in past the rubber seal.



I would buy this ten times over.
lounatik18
Gender:

Male

Familiarity:

I've put it through the wringer
Is really bright, I have two, clear and red; one mounted on bike and the other on my backpack. I ride my bike at night commuting from work and is great to be seen by motorist and voiding getting hit. Highly recommend having two if you are a nightly commuter like me. GREAT lights!!!
Although I have a different light mounted to the bike, this one stays mounted to my backpack at all times. It is crazy bright and serves as a nice warning to cars. Great run time in blinky mode. Why on my pack? It moves around a little more as I ride and I can point where I need it it someone makes me nervous - I highly recommend a bike mount and a pack mount light if you are riding at night.
Impossible to miss this bright light
The LED is blindingly B-R-I-G-H-T. Strobe mode and constant on mode. I like that it comes with both a built in clip and the bike mount.
I had a planet bike super flasher before these, that did well, but I decided to get a couple of these when I got my headlamp. They are super bright, and are visible even during the day. I use them on a daily basis, and have only had to replace the batteries once in one of them, so I think the actual battery life is longer than the claimed life. I use two of them and never feel like cars are getting too close on my commutes or in the canyons.