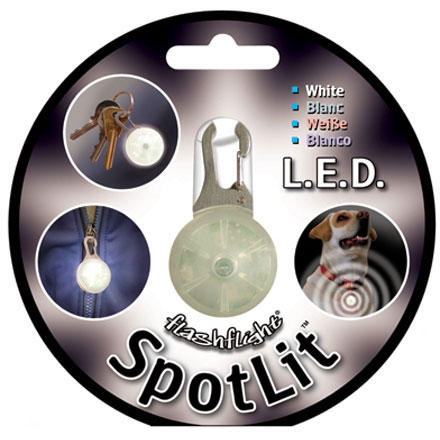 Community Images
The Nite Ize SpotLit LED Clip-On Safety Light attaches to about anything when you need a little extra illumination anywhere from an early-morning jog to to finding your car door keyhole after an evening on the town. This water-resistant, LED-lighted safety light comes includes a long-life, replaceable battery, and weighs less than an ounce.
So handy!
Familiarity:

I've put it through the wringer
I thought this little light was silly at first when I got it, but it's actually really handy in the fact that I can keep an eye on where my puppy is in the yard during these cold, dark winter nights.
Light Weight and Right Amount of Light
Familiarity:

I've used it several times
Worked great for a couple camping trips I went on last year. Weighs practically nothing and it served as a great lantern light for the tent at night time.
Nite Ize SpotLit LED Clip-On
Familiarity:

I've used it several times
I put one on my key chain and one on my dog, it works great one my dog when we are out camping and have little to no lights. and is also good to find the key hole on my door
Don't leave home without it
Familiarity:

I've put it through the wringer
We first encountered one of these lights on a backcountry trek that went long and kept us out in the woods past dark. Our friends dog was wearing one of these lights and we could easily see him whereas our dog (all black lab mix) instantly became an invisible ninja that we could only see occassionally when there was enough snow/moon to make her stand out. We ordered one of these as soon as we got back from that trip and we keep this clip-on light on our dog's collar all the time now. This little light is small enough that it stays out of the way and doesn't bother her and its bright enough that we can always see where she is on night time adventures.

It is an inexpensive but very sturdy light.


Helps you spot Spot
Familiarity:

I've put it through the wringer
My red merle aussie pretty much disappears in the Utah deserts, and it doesn't get any better at night. This little guy makes it so she can run around, and I don't have to freak myself out wondering where she is. It's also great for nighttime walks.

The battery doesn't last forever, and it's definitely only water resistant, but all in all, it's a great little light.
Great Tent Lantern
Familiarity:

I've used it once or twice and have initial impressions
I got this to use as a tent lantern while backpacking. My requirements were that the lantern:

-be small

-put out enough light to play cards by

-not easily turn on by accident while in my pack



This little light fits the bill perfectly and at a great price. I haven't tested it out while backpacking yet, but I did go into a small room which had zero light. With this light I was able to easily read in the otherwise completely dark room. As one reviewer stated below, it does put out more light on the non-battery side, but this isn't an issue for me because I will just clip it so that the battery is facing the rear of my tent. I have no worries about it accidentally switching on while in my backpack, as it takes a fair amount of effort to switch it on. The attached clip is also of high quality and I don't see it breaking anytime soon.



Overall I'm very pleased with this light and would definitely buy it again.
This thing is awesome
Familiarity:

I've put it through the wringer
Whenever I take my dog camping it is so great to have this little light clipped to her collar. You can always tell where she is which comes in really handy when you have a black pup. I have had mine for a few years and it is still going strong!
There are lots of simple LED lights out there for things like lighting you up in the dark for running, hanging on a tent, putting on your bike, or basically any application where you want to be seen, or want something to be seen at night. I have found most inexpensive LED lights to be not that great. This one, however, really works well. It is quite bright, and even from the back side (where the light is partially blocked by the battery), it still gives off good light. The clips to attach the LED to things are well designed. This is a really great small LED for the price.
For five bucks this is a great little lite!
Nice and Bright
Gender:

Female

Familiarity:

I've put it through the wringer
I love these lights for my dogs. They are great for making dogs visible at night on walks and perfect for camping when your dog may be off exploring. Just gives you the piece of mind to know where they are. The batteries will run out with heavy use, but they can easily be changed by unscrewing the two sides.
Nothing better then this
Gender:

Male

Familiarity:

I've put it through the wringer
Put in on my dog when I let him out at night I can always find him! Great investment
Let your dog be seen
Familiarity:

I've used it several times
got this for my little dog for night walks and it works great - I feel cars are a lot more aware of her when we are walking. It is also a great way to keep track of her at night when she is running around the yard. Good to have!
Bright Light
Familiarity:

I've put it through the wringer
I bought these for my dogs and they are absolutely wonderful. We used them on walks and when out camping. Primarily we got them just to make the dogs a bit more visible at night seeing as they are both black in color. While the white would be more like a headlamp, the red is nice because if you are out hiking at night the light helps you keep an eye on what they are doing without throwing off your night vision. Able to take a beating and lasts for quite some time.
I use this light on my dog to go night hiking or just to see where my dog is at when camping
Bad ass ultra light little led light
It's light and works great as a tent lamp. I wouldn't use it as a reading light (I bought the red light for night vision) but it's great for just about everything else ;).
Got this for my dog to use on nighttime walks, or to keep track of him around the campsite after dark, but it also works great as a tent light, key light, etc... It's super bright, and also has a flashing mode.
I use the red one as a very lightweight tent light when I am out on a hike. It just clips onto one of the little loops on the ceiling of my little tent. It weighs about half an ounce, if that, so it sure beats my 8 oz battery powered LED lamp. It's not as bright, but I don't need it to be. The batteries have lasted me through several outings, probably 20 hours so far. If I need brighter light then I put on my headlamp.

I wouldn't trust this to be waterproof, but it has survived a few rain showers with no problems. I would call it weatherproof, but maybe only dunk resistant. The electronics are so basic that if it does get wet just pop it open and let it dry.

Since I really prefer to have a tent light, this little gadget has saved me a significant amount of pack weight. So far it's been reliable and easy to use. I recommend it.
I walk my dog a lot. Living in Seattle during the fall and winter months means it's dark outside by about 5:00pm, so our evening walks are typically in the dark and often in the rain. We have used the same Nite Ize SpotLit LED for three years. It's held up really well and changing the battery is pretty easy. It puts out a good amount of light and makes is easy to see our Bernese Mountain Dog. It's easy to attach and remove from the collar ring.

I recommend these for anyone that wants an easy to use light for their pup.
Simple solution for me. I'm actually using a pair of these as spotlights on my 2 burner camp stove so I dont have to have a headlamp while I'm cooking. Excellent burn time and illumination. I don't have a dog...that I know of.