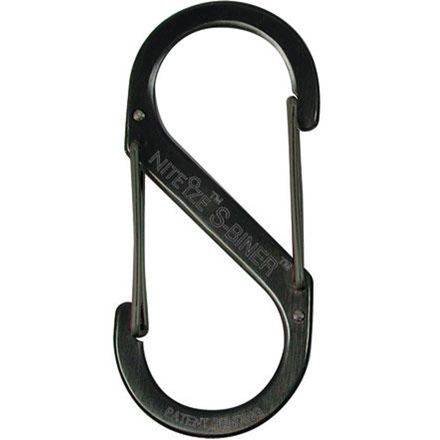 Colors

Community Images
Description
Two gates for the price of one.
The two-sided Nite Ize S-BINER lets you clip your keys, water bottle, or whatever you need to your pack, belt loop, or wherever. Aluminum construction makes the Nite Ize S-BINER tough enough to withstand tons of abuse, so you don't snap it like you did with your plastic one. *Not for climbing use.
Great Product
Familiarity:

I've put it through the wringer
What a great invention. Great little tool for hiking and camping. Anything outdoor related really. Just wish I bought the three pack which includes different sizes and weight ratings. Five stars all the way!
Excellent multi purpose gear
Familiarity:

I've put it through the wringer
The first time I ever experimented with the Nite Ize S-Biner was when looking for a way to organize my wife's menagerie of work and home keys. We're all about dual purpose gear and figured why not have yet another item in her purse that could be improvised to suit another function in a pinch. I keep two or three smaller s-biners clipped to the gear loops of my pack. No particular use in mind upon setting out but there's inevitably a use that arises. My wife and I each have a pair of vibram five finger shoes that we got for kayaking, but on trail sections where we know we will be crossing streams, particularly in the spring time we've begun tossing them in our pack clipping wet shoes to a gear loop via an S-Biner is a fantastic way to dry them quickly and keep wet gear out of ones pack. I keep a few clipped to my climbing harness as well, they're great for securing small accessories, even my chalk bag is secured to my harness via an S-Biner. Over all this is one extremely versatile piece of kit.
Great for the little things
Familiarity:

I've put it through the wringer
I bought this to hook a water bottle on to my backpack. I'm sure there are a lot more uses for it as well. Works great for whatever you want!
good for everything
Familiarity:

I've put it through the wringer
There isnt much you cant do with them (except climb). Cheap and easy solution.
Lightweight & Convenient
Familiarity:

I've used it several times
I recently purchased the #3 for my keys and it's been great.

I was replacing an old mini carabiner that was on my keys before it broke. I like how lightweight and slim this Nite Ize S-Biner is without sacrificing durability. I am definitely pleased with the product!
Multi-Use Master
Familiarity:

I've put it through the wringer
I use a #2 for my keyring, and used to use a #4 (I think, since I lost the Nalgene it was on). These things are indestructible, and a little different from the everyday drab spiral key rings. Awesome.
Great piece for attaching gear
Familiarity:

I've put it through the wringer
These are great for attaching gear to your pack or in the tent. Very easy to use and very durable. I have quite a few of these and have yet to be disappointed.
Great for a keychain!
Familiarity:

I've used it several times
I use one of these little guys for my keychain, and it's perfect! Can easily clip the keychain to things without worrying about the keys falling off because of the two separate gates. Nice and light, seems very durable. I could see them being useful in the backcountry, though I usually use regular biners for that, maybe as I loose those I'll replace them with these.
Weight of size 3 and size 4 s-biners
Size 3 - 14.5 grams

Size 4 - 30.5 grams
I have these in a variety of sizes I think my favorite is the #3 it works for a variety of purposes . Not to big not too small. I have had it for a couple of months and so far it hasn't shown any signs of wear.
Nite Ize #2 S-Biner Rocks!
Gender:

Male

Familiarity:

I've put it through the wringer
I have several of these 'biners and my favorite is the #2 (10 lb capacity). The #2 weighs 0.30 oz and I use it as a zipper pull, as a clip for hanging bear bags, to fasten a lamp to tent ceiling and more. The design and operation is so simple - and the function is so useful - that Backpacker magazine gave it an Editors' Choice Award when it came out in 2008.



Pic shows S-Biner lashed to my pack's shoulder strap, for quick access, in the high country.
Perfect Key Clip/Pack Attachment Device
Gender:

Male

Familiarity:

I've put it through the wringer
I use these for everything from quick release key chains to quick clips for attaching misc. items to my pack on weekend trips. They're lightweight, durable and strong.
Exactly as expected
Gender:

Male

Familiarity:

I've used it several times
I bought a few of these for quick release keychains, and they work great!
Easy to clip and it's really light weight. Did exactly what it was supposed to do
If we ever get any snow in California I'll try these out. I'm planning to use them to clip my powder cords to my bindings. Its quicker and easier than tying and untying but I'm not sure whether they'll stay on. After burying a ski a few seasons ago I always use powder cords in deep snow.
I just recently bought these in multiple sizes primaraly to clip my work ID to a lanyard and jacket. These are great! they are more attractive than a biner, slimer and easier to access or remove. I use the mini on a zipper pull on my jacket which helps avoid a caribner hitting me in the face during high winds. The larger doubles as a key chain or ID lanyard. Strong and light, a cool item!!!
These are handy little biners that work for a variety of uses. I always have a couple of these on my backpack and use them for just about everything. Fairly strong but certainly not for full body weight. I stopped using them for securing my dogs leash and went with a climbing carabiner.
I have a number of these and use them almost every day. Great for around the house, hiking, travel, basically anything you can think of. Good workmanship, feels sturdy in your hand. Recommended