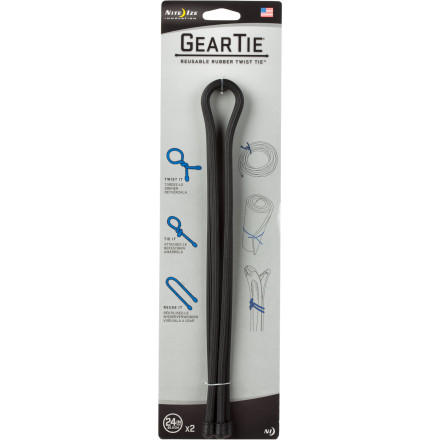 Colors

Community Images
Very useful!
Familiarity:

I've used it several times
These things come in serious handy for so many things! They are durable and sturdy. I use them for my bikes on my bike rack so that the bikes aren't banging around and it works great. They are quick and easy to get around most anything!
Pricey but oh so versatile
Familiarity:

I've put it through the wringer
So this does nothing that cordage and a well rounded knowledge of knots can't do, but it can do it quicker. Lashings are really its strong suit, don't want the tires spinning on your mountain bike while its strapped to the back of your jeep... gear tie. I use mine to attach any number of pieces of gear to the exterior of my pack. You can accomplish this in such a way that your equipment is immobile and in no way interferes with your stride. Anything from fishing equipment to an ice ax, even my summit flag is lashed to my pack with gear ties. I prefer orange as the high visibility color is hard to loose in camp. The external mantle of this tie will eventually break down and the internal wire will with time begin to kink, but it will save you the time and waste of cutting dozens of various lengths of cordage.
Versatile and Convenient!
Familiarity:

I've put it through the wringer
What can't these bad Larry's do? I have them in multiple lengths. These are so great for anyone with an active lifestyle that needs to attach this to that or hold this here, etc. etc. The random places I have found use for these are (but not limited to:)
1. Use as a fly rod holder in your Subaru
2. Use as a chest strap when your packs stitching fails you
3. Connect your water bottle to your pack
4. Tie down a bike lock

These work great as an alternative to duct tape or straps. So strong for what they are. Highly recommended for...well, anyone

Gear Tie - thousands of uses!
oh the wonderful things Gear Ties can do; they are so useful they make you shout "yahoo!"
Great for keeping gear together
Familiarity:

I've put it through the wringer
These things are perfect for keeping rope together or tying things to your pack or tent. They are very durable and will last for a long time
An Organizing Must-Have
Gender:

Male

Familiarity:

I've used it several times
These ties work great for keeping ropes, cord, and other items neat and separated for organizational purposes. Pretty handy for camp/climbing gear storage and transport.