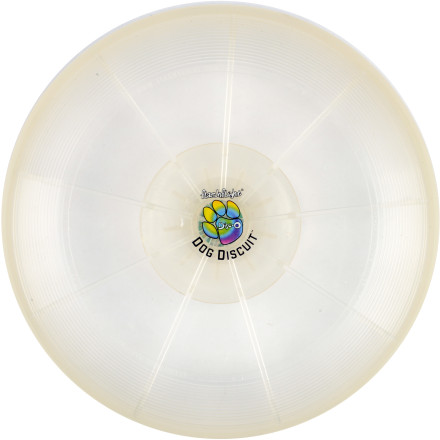 Description
The Nite Ize Flashflight Dog Discuit—because when it comes down to it and the aliens are over-running the local defenses, you should be fighting right alongside your best buddy.
The Nite Ize Flashflight Dog Discuit helps you battle-train your dog to against the impending alien invasion. This LED-lighted disc extends your training time well into the evening hours, and the bite-friendly cover teaches your dog to maim, not kill. The Nite Ize Flashflight Dog Discuit floats in water, stands up to all the biting and gnawing your dog can dish out, flies better than the ship on Flight of the Navigator, and comes through in a pinch when you find yourself empty handed at the disc golf course.
Nice Disc
Familiarity:

I've put it through the wringer
Nice and soft plastic. Hasnt caused my dogs gums to bleed yet but she isnt super aggressive with frisbees. This disc flies really really well dont know if it is because of the light in the middle but definitely is more fun to play frisbee with my girlfriend with this disc than a regular one due to the fact i dont chase it nearly as much!! Other reviews said to silicon the battery cover on i did that and have had 0 problems with it
Nite Ize Flashflight Dog Discuit
Familiarity:

I've used it several times
my dog and kids love playing with this at night. works great
Awesome... sort of.
Familiarity:

I've put it through the wringer
While the light up frisbee is awesome, after two uses, it was just a frisbee. Somehow the center piece which houses the light went missing. Blue dog is a golden and has some serious chompers, but it wasn't like he was doing anything other than retrieving the frisbee. The frisbee itself works great, the light up part was awesome while it lasted. That said, I bought 2 more, because I do whatever it takes to make dogs happy.
The best dog toy
Familiarity:

I've used it several times
Especially with the days so short in the winter, this is the best dog toy out there. My golden retriever loves it. It flies really well and the light works great. I'll throw it, my dog will disappear into the dark, then the frisbee comes floating through the air back to me. Its awesome.
This thing is great!
Gender:

Male

Familiarity:

I've used it several times
Got this for my dog who loves catching the Frisbee, now that it's dark by the time we get home it's great having this to keep the fun alive during the winter months.
This is the best Night Dog Frisbee available but I highly recommend:

- Get a small tube of RV 100% Silicon...pull off the center cover piece and pull out the switch/battery mechanism and scrub the frisbee with some dishsoap and a nailbrush and let it dry. Then replace the switch and put a bead of silicon around the center rib of the cover and another bead on the outer edge where the the cover touches the disc. Make sure you snap it on all the way and let the silicon cure up for 24 hours. This will keep the switch dry and will keep the center piece from coming apart and losing it forever! You will also have no problem removing the cover again when battery needs to be replaced...then just follow the instructions on cleaning and silicon again...Have fun : )
, ☃bcs_badge_alumni_label☃
Great
My dogs love this. This is great for dark winter walks when it is way to dark out for a normal frisbees or balls. Really easy to keep track of, and my dogs both love it. Will definitely get another one.
, ☃bcs_badge_alumni_label☃
Dogs love it
My lab. retriever normally goes crazy for balls but not frisbees. This is the first frisby she's had fun playing with.
Great flight, solid construction
This is a great dog toy. It's not a tug toy but a great fetching toy. Super-durable material that doesn't compromise the flight. It has a quality flight path. Good distance for such a light weight disc at a 110 grams. Easy on/off switch and simple way to replace batteries when needed. Water resistant as well. It is not hard to dry out the interior if water gets in the battery cap.
Great product!
We have only been using this disc for about two weeks however it seems to be holding up fine. My blue heeler likes to rip things up and shake them until they are dead. The plastic is durable enough to withstand abuse but is soft enough for my dogs sensitive mouth. One downside is the light comes on during play. Very minor flaw otherwise this is a decent disc.
My dog and I love this disc. It's soft enough that I don't worry about her teeth, but it has left her gum bleeding once. The batteries seem well enough protected and I haven't had any trouble rinsing it off. One big downside: Last night, my dog stopped and sat next to her disc instead of bringin it back. When I walked over, I saw that the battery cover had come loose and was lost in the grass. The batteries clip to the light insert, so I was able to find it still shining bright a couple of feet away, but alas, we can't use it as intended without the battery cover. However, we had loads of fun with it before that.
very durable- withstood my psycho dog for many months. the battery life was good. i broke the LED, however, when trying to change the battery. I am dumb. now i have to buy a new one.
you have the wrong picture for this product...
The picture is of the original Flashflight disc. You need to Dog Discuit picture.