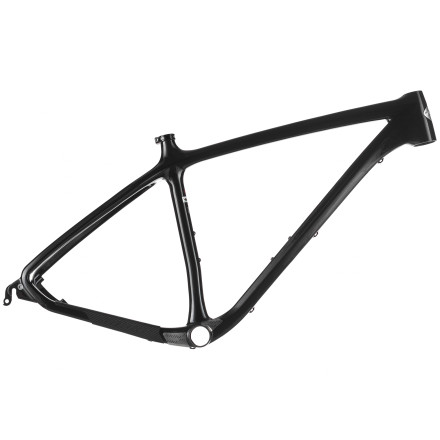 Detail Images
Description
For the purists.
It could be fairly easily argued that the 29-inch-wheeled hardtail is the fastest and most efficient mountain bike configuration out there. So what would make it even more so? How about letting the dedicated 29er masters, Niner, render one of such raw purpose that they slap their haloed Race Day Optimized moniker upon it? Then you wind up with the Niner AIR 9 RDO Carbon Mountain Bike Frame.
Far more than just a reskinning of the original AIR 9, the RDO is its own beast. Foremost were weight concerns, and extreme measures were taken to address them. For example, Niner relocated the rear brake caliper mounts with the sole purpose of saving weight in the form of a shorter hydraulic cable line. That's extreme. The company even ditched their proprietary CYA bottom bracket system - widely respected and even used occasionally by other manufacturers -in favor of the lighter PressFit 30 interface. These details, in conjunction with the frame's aggressive geometry, indicate the seriousness of Niner's mission to craft the ultimate race-ready hardtail.
But let's look at the bigger picture, too. Niner started from scratch and revisited the computers to take another look at the AIR 9's carbon layup via finite element analysis, or FEA. They reconfigured the structure of the frame completely, developing new carbon weave patterns and utilizing new tube shapes to stretch every gram of material to its maximum without compromising strength or durability. The heavily curved and contoured shapes you notice - most notably in the top tube and seat stays - are purposeful, intended to mitigate excessive vibration and impact from the trail, while the stout down tube, chain stays, and tapered head tube are dialed to channel every watt and nuance of rider input into the wheels.
The RDO uses a 31.6mm seat post and a high-mount, bottom-swing, and bottom-pull front derailleur with a 34.9mm clamp. The rear triangle provides clearance for tires up to 2.4in, and staying true to its XC nature, the AIR 9 RDO only uses 160mm rotors, with the caliper attaching via a post mount. Niner recommends a maximum chainring size of 26/39t for SRAM or 28/40t for Shimano for two-by applications in order to avoid interference issues. Any traditional triple setup will also work fine.
Niner recommends 80 to 100mm suspension forks, or for the lightest setup possible, a rigid unit with a 470mm axle to crown length and 45mm offset. Perhaps not coincidentally, Niner's award-winning carbon fork shares those exact dimensions. The tapered head tube comes equipped with a Cane Creek IS42/28.6 | IS52/40 integrated (Campy style) headset. For those who intend to run a one-by drivetrain, such as SRAM's XX1, the AIR 9 RDO will clear up to a 32t ring, with a 168mm Q-factor crankset.
The Niner AIR 9 RDO Carbon Mountain Bike Frame - 2012 is available in four sizes from Small to X-Large and in the color Licorice.