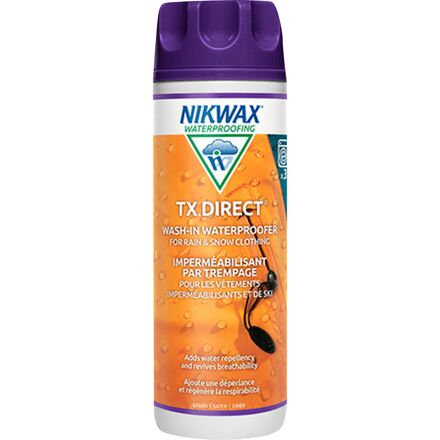 Colors
Description
No need to throw out that Gore-Tex shell because you're getting soggy when you ski. Simply retreat it with TX Direct Wash-In, and you'll be dry again.
Nikwax TX Direct Wash-In treatment restores durable water repellency (DWR) for waterproof/breathable fabrics such as Gore-Tex, HyVent, PreCip, and Event. Washing and using fabrics can make them begin to absorb water or "wet out". Nikwax TX-Direct completely restores surface water-repellency which enhances breathability. Nikwax TX-Direct lasts several washings and does not need to be reapplied after every wash like other treatments. 10 fl oz. (300 ml)
purple proof, green clean
Familiarity:

I've put it through the wringer
i live by this stuff, if you own goretex this is a must, espically if you use your jacket on the regs, once you see it getting dirty and water starts to soak into that first layer, just do a quick wash on it with this stuff and watch the jacket come back to life.
Helps you take care of your gear
Familiarity:

I've put it through the wringer
Outdoor gear is made to weather everything we throw at it, but for it to work well year after year you have to take care of it. Once a year (at least) I run all my outdoor apparel through Tech Wash and then TX Direct. Use on all ski gear and rain jackets. Super easy to use with multiple options. Love pulling it out of the washer and watching the water roll off.
If you have gore-tex its a must have.
Familiarity:

I've put it through the wringer
After a while your gore-tex gets dirty and you have to wash it. Really this is just like a DWR and maybe better than what came on your garment originally. So this is what you need after you wash it. I like to wash w/ soap then wash again with this stuff, starting the wash and then stoping to let it soak in the garment for at least a half and hour, continue the cycle and then hang dry. More or less care about the outside water resistance more than anything else. No material breaths the way they say it does, doing this or spraying something else on is clogging the materials breathability.
The jacket that I want to apply this too has a mesh liner on the inside... Should I still use the wash in or should I order the spray on.
I'd use the spray on for anything that has a liner designed to move moisture from layers below.
can I use the wash in products in a front...
can I use the wash in products in a front loading washer?


Best Answer
Straight from the horses mouth:



Use Nikwax TX.Direct Wash-In in a washing machine ...

For best results remove all non-washable parts and always clean item(s) first with Nikwax Tech Wash in a separate wash cycle. No need to dry item(s) before waterproofing.



Top Loading Machine Wash:

1. Place maximum of 3 clean garments in washing machine.

2. After the machine has filled add 10floz/300ml of TX.Direct.

3. Set cycle to Heavy and Warm, Low water level.



Front Loading Machine Wash:

1. Remove all detergent build-up from the detergent dispenser.

2. Place maximum of 2 clean garments in washing machine.

3. Use 3floz/100ml per garment.

4. Run 30oC Synthetic cycle and slow spin.



Do not machine-wash garments if taped seams have become dislodged.*

To maintain waterproofing always wash with Nikwax Tech Wash. Do not use detergents.



*Faulty taped seams sometimes become detached on old or worn garments. They can be re

-stuck using a proprietary clear glue after waterproofing and drying.


One extra note: if your front-loader has one of those little drawers for detergent, use that. It'll wait to dump the detergent in the load until after the water is in, which will distribute it better than if you dump it straight on the clothes.
Revamp older gear with a new DWR coating
Familiarity:

I've put it through the wringer
I had a pair of 4 year old Dakine gloves that got saturated after only an hour or so of being used. Day to day it was a struggle to keep them dry and my hands warm.



Thanks to this product I am still using the same gloves and I have not had a problem the entire season with wetness, at all.



Extremely happy with this product and others produced by Nikwax.
Gore-tex
Familiarity:

I've used it several times
It works on goretex and actually lasts!!!
Great product
Gender:

Male

Familiarity:

I've put it through the wringer
I use it more then one time. I use one 10 fl oz. (300 ml) for a twice of the jacket they say it made for and it work great!

I'm using it for years now. the repellent water fabric go like new ufter using it
I know Nikwax offers a few different cleaner...
I know Nikwax offers a few different cleaner and waterproofing detergents. Which ones should I go with to waterproof a synthetic insulation snowboard jacket?
Hey Eric,



You should wash the jacket with tech wash but as far as waterproofing, since the jacket has an insulative layer you'll definately want to go with a spray on waterproofer from Nikwax or Revive-X. On a side note I find that my jackets bead up much longer with a spray on rather than wash-in but that's just my experience. Hope this helps
Best Answer
You can also follow the manufacturer' washing instructions and use whatever they recommend. For waterproofing, spray-ons work better than wash-in, but it's best to do two or more light applications rather than one heavy one.
Good Stuff to Revive
Familiarity:

I've used it several times
I washed this in with our 2 Gore Tex jackets and ski pants. It does work but you will need to use the dryer to set it in. The fabric does feel a little coated and I wonder about the breathability. I washed these in at the end of the winter season in preparation of the next winter season. I'll report back on the breathability aspect of the garment. Otherwise, I'll try the spray on next time.
Arteryx website doesn't recommend
I guess I'm the odd man out, cause I didn't think this worked well at all or nearly as well as a Revivx Spray on Waterproofer. I had an old MH shell that I thought was ready for the garbage because despite washing with tech wash and pouring a whole bottle of this stuff to treat it, it still wouldn't bead well. I was so dissappointed, and ended up buying a new Arteryx Beta AR (made me feel better hahaha). However it came time to wash the Beta and I checked Arteryx website and they DO NOT recommend a wash-in waterproofer, but rather a spray on. I used the Nikwax tech wash and the Revive-x spray on as per Arteryx instructions for both shells and when it came out, the old shell worked just as well as the Beta. I will not be using this product again to retreat my shells.
Works better than the Spray-on, but doesn't quite bring the fabric back to factory specs. Worthy investment nevertheless.
Use this stuff once a season on my winter gear, from what I remember one bottle will work on up to 3 garments in a top-load washer. Put the water repellent edge back into both softshells and gore-tex gear. Very happy.
Which is better, wash-in or the direct...
Which is better, wash-in or the direct spray on?
It depends on you and the garment. If the garment is older, and you don't want to subject it to heat from the dryer, use the Spray On. As well, the Spray on saves on energy from the dryer. Otherwise, the wash in will require a dryer at the end of the wash in cycle.
That's true Anthony, using the dryer would most likely bankrupt the person who uses one and we'll soon be under water!
Well worth the money
Familiarity:

I've used it once or twice and have initial impressions
Was very surprised how clean it made my jackets. Since using up first bottle I had to buy another to use on the rest of my jackets. Great product!
zombie virus for Gore gear
Works great on all my Gore shells. Brought the life back to my gear that I thought was done for. Well worth the money for this miracle bottle.
How to treat your garments
Luis Brown talks TX Direct
Will one bottle of wash in be enough to...
Will one bottle of wash in be enough to waterproof:

Gor tex paclite rain shell,

Precip rain pants,

Snow pants,

Down jacket.

Thanks for the input.
I believe it is two cap fulls per garment. So yes, i think one bottle will work for four garments. Hope this helps.
Matt,
Wash in is going to work great .. I would recommend using Tech wash first