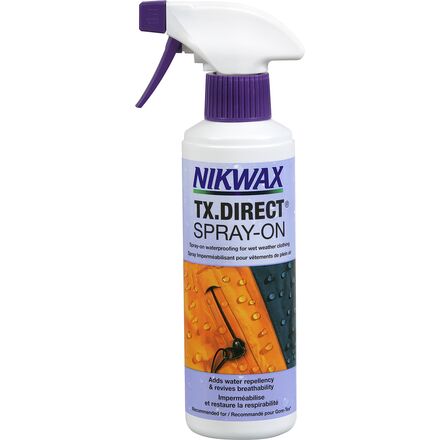 Colors
Description
Spray it on, wipe it off, get your tail out there, and have fun.
Gore-Tex, HyVent, eVent, and any other synthetic fiber garment with a durable water repellent (DWR) or polyurethane (PU) coating will eventually allow moisture to seep through the outer fabric. The Nikwax TX Direct Spray-On is a quick and easy way to replenish that waterproof barrier before your next outing. Simply spray on, wipe off any excess, and allow to dry to reinstate that barrier.
Share your thoughts
What do you think of the
Nikwax
TX Direct Spray-On
? Share a...
Works but expensive.
Familiarity:

I've used it several times
This stuff does work when you follow the directions. I use it when I cannot use the wash-in with like my backpack or just spot treatments on my raingear.

However, this stuff is pretty expensive and sometimes requires two coats for courser fabrics that are often used for backpacks. That can add up quick! (-1 star)
It won't make anything waterproof, just more resistant to water sitting on your gear.

Also, avoid using on hard floors, it can make the floor slippery. You don't want to slip and die, cause that would be very bad.

I wish they sold larger bottles of the spray on for a better bang for the buck. Or some refill for these small bottles. (10oz)
Restores DWR well
Familiarity:

I've put it through the wringer
Follow the directions and the TX Spray on works effectively. I use a wet rag to spread the coat once it's been sprayed on and seems to work the product into the garment nicely. A bit expensive but it's better than buying a new shell.
Can the spray on be used after the jacket has been washed and dried? Or is it better to apply the spray when the jacket is wet/damp?
It's best to wash the article(s) whose water repellency you want to renew with, Nikwax says, their Tech Wash - perhaps that's a good idea, since other detergents can potentially clog the pores between fibers that you're looking to waterproof. Then, their instructions are as follows:
"For best results remove all non-washable parts and always clean item(s) first with Nikwax Tech Wash®. No need to dry item(s) before waterproofing.
Protect working surface and lay clean garment flat and zip up all zippers.
Hold bottle 15 cm/6 inches away from garment.
Apply evenly to outside of fabric.
Wait for 2 minutes. Remove any surplus product with a damp cloth.
Check carefully to ensure no areas have been missed.
After several minutes check for and remove any surplus product with a damp cloth."
Therefore, you should wash your article(s), then while it's damp, just take it outside and hang it on something, spray it down, make sure to gently remove any surplus, and then let it air dry the rest of the way, and you should be good to go.
Hope this helped.
I followed the instructions, then tossed into the dryer on low for about 15 minutes. The results were extremely satisfying.
use it on all my waterproof gear
Familiarity:

I've put it through the wringer
after using this, my gear repels water like crazy. the spray has a bit of a smell that fades after a few days. (Not a terrible smell, just kind of synthetic, like when you buy new gear.) After spraying on, i usually rub it in with a rag until the jacket/etc looks "wet." That way I know it's really sunk in.
Nikwax.
Familiarity:

I've used it several times
This stuff is great. It is super easy to apply and extremely effective. It is nice knowing that you can go out all day and snowboard/ski/snowmobile/snowshoe or any other potentially wet winter activity, and be kept dry. Any water repellant material will be maximized with this stuff. I used it last weekend where there was a ton of wet snow on the chairlifts and I didn't get wet at all. I would definitely recommend this stuff. It is relatively cheap for what you get out of it, great value.
Best Answer
Personally, I would would hold on to this for your softshells and use the cream to treat leather.
Like the wax on your 1976 Ford Bronco
Familiarity:

I've used it several times
You wouldn't detail your Bronco with a fine tooth comb then not put a fresh coat of wax on it. Treat your Gore-Tex with the same love and care. Use the Tech Wash in the machine, spritz then on after, while the item is still wet/damp. Then, getting some face shots and repeat as necessary.
Can you use this on gloves too? (ex....
Can you use this on gloves too? (ex. Kinco)
Yes, you can--although it will not make a product water resistant that was not previously treated with a DWR coating. So, as long as the gloves were previously DWR, they should be good to go with the NikWax spray.
Can I use this on a soft shell?
I have...
Can I use this on a soft shell?
I have gotten conflicting answers from people I don't really trust. So I'll ask strangers.
I'd rather get one product that I can use on everything?
This obviously won't add waterproofness to a jacket that never had it, but it can increase water resistance in a softshell. I would feel safe spraying this product on any garment that came with a DWR coating when you bought it.
Spray on vs. Wash in
Familiarity:

I've put it through the wringer
Follow the instructions, washing first is important. It doesn't have to be like new but you have to wash out any spills, hand grease, or anything else that has built up on your coat. I've used the wash in and the spray on many times. Both work very good, but you can do multiple coats w/ the spray on. In really wet weather the multiple coats of the spray on will give you the best waterproofing for your coat. The wash in can be used once w/ one or two garments and must be used all at once. The spray on does about 2-3 garments, and you have a lot more control. You can apply heavier in areas like the cuffs, shoulders, etc.
HOW MUCH NIKWAX DOES IT TAKE TO TREAT...
HOW MUCH NIKWAX DOES IT TAKE TO TREAT A 20 BY 20 CANVAS TARP ? ALSO HOW LONG DOES THE TREATMENT LAST. SHOULD BOTH SIDES BE TREATED ?
JIM GRUBBS jmngny@tds.net


You will need quite a few bottles. This will cover one, maybe two jackets. For such a large piece of material, you may want to look at an alternative product designed for larger items. Otherwise it will be incredibly expensive.
I think that since canvas has much more texture than the nylon/polyester fabric used on jackets/pants, this spray would not be ideal to cover such a large area.
I would suggest looking at wax to waterproof your canvas. The wax gets laid down much more thickly than this spray, and offer a bit more protection.
After my roommates cat decided to make my rain jacket it's new litter box, a quick wash with the tx wash followed up with the spray brought my jacket back to where it should be!
This spray does what it claims, adding waterproofability to fabrics. I believe it doesn't work as well as the Wash-in one, which I also purchased.
Does it expire? It's on sale and wanted...
Does it expire? It's on sale and wanted to buy and extra bottle or two...
You will want to use it within 4 years of the sell by date for maximum performance.
Does the Job
Gender:

Female

Familiarity:

I've put it through the wringer
Quick and easy to apply, and it does the trick. You can definitely tell the difference when you spray this stuff on! Great for when you don't have a lot of time to deal with revitalizing your pants/jacket. I would definitely recommend this stuff- keep it on hand!
Great in a pinch!
Gender:

Male

Familiarity:

I've put it through the wringer
If you ever need to spot treat just a few places on your jacket or pants, this is the go to product for you. It's quicker and easier than the full tech wash and wash in style nikwax and dries quicker so that you can use your gear with minimal time in between application and heading out to whatever wet activity you're planning on getting yourself into.

I always have a bottle of this on hand for those "just in case" times of need. Superb for high friction spots such as between the legs, underarms, elbows, and knees. Highly recommended.
Works great!
Gender:

Male

Familiarity:

I've used it once or twice and have initial impressions
Used it on my old Cloudveil jacket and it restored it like new. Since then I have used it on all of my jackets that have lost their ability to repel water.
Be nice to your stuff!
Gender:

Female

Familiarity:

I've used it several times
I used the spray-on for a Norrona gortex jacket. Totally restored the water repellency. A small investment for great results on your gear!
Luis Brown Talks TX Direct