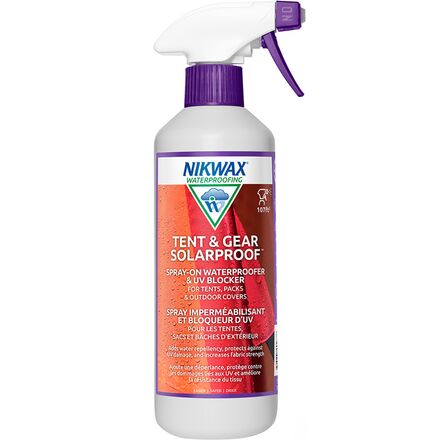 Colors
Description
Like sun block for your gear.
High-altitude camps and long trips in sunny climates will wreak havoc on your tents and other gear, so protect them with Nikwax Tent and Gear Solar Proof. This spray-on protector works on all weatherproof textiles and increases water repellency and UV protection.
3 year old tent is now brand new
Familiarity:

I've used it several times
I just applied this product to a few of my prize possessions including my Big Agnes Copper Spur UL3. The solution made my rain fly feel, look, and perform like a brand new fly. I could not be happier with how easy the application was and how awesome it performed on the first trip out in which we had a significant thunderstorm roll through in the night.



Give me a shout if you have any question on revitalizing your gear or anything with the Nikwax line.



Eric Watford

Expert Gearhead

801-736-6397

ewatford@backcountry.com

Instagram:@ericwatford
I use it on my all my tents and packs that see a lot of use, and love paying such a small amount to get a lot of extra life out of them. Besides looking like a crazy person creating a tent city in the front yard once a year, nothing to complain about over here!
I have a Nikwax Solarproof 1L and a Mountain Hardwear Hammerhead 2 tent. Exactly how many ml of water and how many ml product (I get confused when they say "parts") do I need to mix to make a solution for my Mountain Hardwear Hammerhead 2 tent
Best Answer
My experience with this product has been that there is no mixing required. Ready to go right out of the bottle as you get it.
I just bought a nice, new REI backpacking tent in white. I read one review somewhere that this product will turn white fabrics into a dingy yellow. Is this true? If so, is there another product you recommend for treating a new tent?
Best Answer
Of the products I've used, I'd say this stuff is probably the best at what its designed to do. I have not found it to distort color on anything I've used it on, but none of it has been white. The way I would think about is that your white backpacking tent is eventually going to become discolored anyways, so why not make sure that it at least keeps you dry?
I still have half a bottle left. Unfortunately, it's 1 mos from the expiration date. Supposing I use it, I know Nikwax cannot guarantee its effectivity. My question would be, would it do any harm to the tent fabric? If it won't I might as well use it, and hope it still works.
Hi Hans,



Here is Nikwax's official statement on the matter: Nikwax guarantees the performance of all its products for 4 years. Every bottle is marked with the date of manufacture. An older product will not harm your garment.



Back to Wayne - Basically all that means is past the expiration date the solution may just lose its potency. It doesn't become dangerous to use. Maybe test it out before you head out and see how it handles.
Planning to use this to double my tents...
Planning to use this to double my tents protection. Is it safe to be sprayed on flysheet and tent zippers? or do I have to avoid that?
Hey Hans,



That is the exact application that this product is made for. Have at it.
Wayne, so unlike seam sealers, the solarproof is safe on zippers?
Great stuff!
Familiarity:

I've used it once or twice and have initial impressions
Used it on my big agness UL3. It seemed to cover well and was easy to apply.
Waterproof
Familiarity:

I've put it through the wringer
I use it on a big 70L backpack and a small 30L backpack.

It make them waterproof (the canvas not the seams) waterproof for one winter...don't know for the UV proof, can't see the difrent
Douse all your gear with this
Familiarity:

I've put it through the wringer
This will keep the sun off your gear. This keeps it looking fresh from day one! I put this on all my gear as soon as I get it. Protecting my 700$ tent for this minimal amount is a no brainer. You should do it as well!
Worth the $20 bucks!
Familiarity:

I've put it through the wringer
I cleaned my gear with the Nikwax Tech-Wash before adding this solar proof to my tent. I just set up my tent in my yard and throughly sprayed the proof all over my tent, trying to get it as even as possible, then let it dry in the sun. This stuff really works, it's like a brand new DWR coating on your gear. It's pretty cheap and very easy to apply!
I have always been ever so suspect of the whole "just spray it on" type of products but this stuff really works. Plus it is the product that one of the very best tent makers recommend.
It's like an invisible UV condom...
Very easy to apply and cheap compared to purchasing new gear.
will the application of this product on...
will the application of this product on my light nylon beach shelter also give me some protection from the uv rays?
Keep your gear in top shape
Weather and solar exposure take its tole on camp gear,such as tents and rain flys.Pitching your tent say once a year(if used frequently) in your back yard on a sunny day in the shade.A lightly spray mist of just the tent and let set and dry even over night if need be.Then put the rain fly on and do the same,again leave pitched over night if not thoroughly dry.Backpacks love this stuff too(anything exposed to the elements).
How to Waterproof your gear with Nikwax
I have a vintage Swiss canvas and leather...
I have a vintage Swiss canvas and leather backpack, two actually.They both are typical Swiss-made, bombproof and built to last forever. I want to clean and restore both the canvas and the leather. Leather is pretty much a no-brainer and there are lots of products but I've read about "never washing canvas" or using only a 50-50 mix of vinegar and water and a medium bristle brush to clean it. Obviously I cannot machine wash something with all that leather.
Any suggestions? Tech Wash by hand? Woolite? Maybe then spray on the Nikwax Tent and Solar Proof? These are great packs and I want them to end up water-resistant and clean.
Best Answer
Hey John, I would look into some specific canvas products, check into boat/sail cleaners and waterproofing...
It works really,really well - all I can say...
I have brand new backpack but the instructions...
I have brand new backpack but the instructions assume the pack needs to be washed and follows as if the pack is wet. Do i need to rinse the pack before applying the Solarproof or can it be applied to a dry pack.
Best Answer
It does need to be wet.
I recently purchased a laptop pack from backcountry and found out that the fabric absorbs water like a sponge. After adding 2 coats of the solarproof, I took it out back and and put the water hose to it for about a minute. There are few things more beautiful than seeing water bead up and run off like it did. I will have to post a video of it soon to share this gleeful sensation.
Hey Kelsey... which do I put on my gear...
Hey Kelsey... which do I put on my gear first; Nikwax Tent and Gear Solarproof, or Sawyer Permethrin??