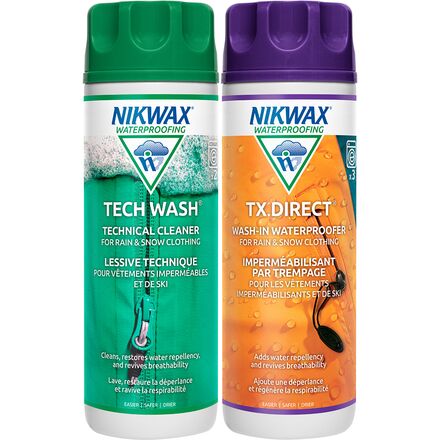 The Nikwax Tech Wash and TX.Direct Wash-In Duo-Pack breathes new life into your grubby, well-worn tech outerwear. Give your manky jackets and pants a wash with Nikwax's Tech Wash, a non-detergent soap that safely cleans them without damaging DWR treatments. After everything's clean, run a cycle with Nikwax's TX.Direct Wash-In treatment to quickly revive water repellency without compromising breathability.
Safe for use with Gore-Tex, Ultrex, eVent, Triple Point, and other membranes
All Nikwax products are 100% water-based and biodegradable, and do not contain fluorocarbons or VOCs
refreshed!
Familiarity:

I've put it through the wringer
The only tech wash and DWR I will use!!! This stuff is top of the line. Use it if your tech gear is wetting out and it will bring new life into the garment!
The Revival
Familiarity:

I've put it through the wringer
I've been using both of these products for years now. The ability to refresh waterproofing and extend the life of your outerwear is great. I've found the cleaner the garment the better the entire process works and recently tried spot washing areas with heavy dirt by hand with a sponge. This helped remove stubborn dirt/stains from the fabric's pores that the machine wash could not and I haven't noticed these areas "wetting out" any more.
Works WONDERS!...Love it
Familiarity:

I've used it several times
I used this stuff on a pair of snowpants that have been heavily used since 2007; it resurrected them. Immediately after treating them I used the snow pants in a heavy snow storm and they were repelling water like they were new. I also used the wash to remove stains from my Gore-Tex Arcteryx shell. I would recommend this to anyone needing a good cleaner or needs to resurrect some outerwear.
Does the trick
Familiarity:

I've used it several times
When I wash my Gore-tex I use this stuff. Works like a charm!
Works like a charm
Familiarity:

I've used it several times
Follow the directions and use the TX Direct spray and your shell will be almost as good as new.
Excellent production
Familiarity:

I've used it several times
Will definitely revived your technical outerwear. Last longer than the direct spray on product but wish it would last even longer than it does. Then again it is probably time to retire them
Will this work on a canada goose jacket ?...
Will this work on a canada goose jacket ? (I have the mystique parka)
There's no reason that it shouldn't work, though I have heard extremely contrasting reviews concerning the TX.Direct Wash-In waterproofing; however, be sure to check on CG's website for instructions on how to clean your down garment. Most manufacturers of down-filled clothing tend to, with minor deviation, agree on a set of protocols when washing and drying your garment to ensure prolonged use, capability, and fortitude of the piece in question. I've avoided using the wash-in waterproofing due to degree of disparity of opinion I've found, but the Tech Wash shouldn't be a problem. Make sure you find out the exact procedure for cleaning the parka though!
So I used the techwash and none of the...
So I used the techwash and none of the stains on my pants were cleaned. Pants pretty much everything looked the same as before I washed it. Is it not good for heavy or old stains? Do i need to scrub out my stains separately then wash with techwash and then tx direct?
Andrew,

While I sometimes think the Nikwax Tech Wash is magical, I am told that it is pure science at work.



Unfortunately, despite their amazing formula, the Tech Wash will not be able to remove all stains (especially ones that have been allowed to set for a long time).



Rest assured that the Nikw Wax Tech Wash can handle most stain removals, and even if the stain persists, your gear is nonetheless clean. If you are determined to live a stain free life, I would recommend attacking the stain early and scrubbing directly. I would also recommend using the TX Direct intermittently to restore the qualities of your gear's waterproof/breathable membrane.
Best Answer
Yes, you would need to separately treat the stains, wash them out, then wash with the TechWash, and follow with the TxDirect. The TechWash is designed to remove old detergents that may interfere with the water repellency of your garments in question; it does not have any true sort of efficacy when it comes to stain treatment or removal - totally different realm of cleaner.
I have found that when I have nasty stains I need to use good told Tide or Shout... and then I wash with a technical wash afterward. I have not seen any undue effects from this -- probably because this sort of stain treatment is typically randomly (and widely) dispersed in both the time and space of the garment.
Works great!
Familiarity:

I've used it several times
I used this on my snowboarding jacket and pants that are both five years old and lost most of their waterproofing ability. Snow guns were blasting snow on the mountain (east coast!) and my jackets and pants actually ended up freezing over in sections. I did the tech wash and then the TX direct wash in and now my gear is like new! No more ice patches on my clothes -- clean and dry!
can you use the wash treatments if your...
can you use the wash treatments if your garment is not a shell, but has insulation?
You could use the Tech-Wash on a non-shell insulated jacket. Although, Nikwax does have down specific wash prodcuts. Down-Wash for stricly cleaning purposes, and Down-Proof for revitilizing down and giving it greater waterproofness.
Nikwax Tech Wash/TX Direct combo is key
Familiarity:

I've used it several times
If you have a waterproof shell this combo pack is a must have to keep your threads breathing, beading and shedding water. The Tech wash cleans the fabric thoroughly and strips off any dirt grease or grime, while the TX Direct re waterproofs and applies a brand new coat of Durable Water Repellency. I use it a couple times a season, and my gore-tex shells look like new.
Not waterproof? Not a problem.
Familiarity:

I've used it several times
This stuff works great for cleaning and bringing the waterproofness back to your garments. Follow the directions, these guys know what they're doing, and you'll be sure to stay dry and extend the life of your rainwear. Will not hinder the breathability of your gear.
Is this product effective for patagonia...
Is this product effective for patagonia rubicon rider pants with the h2no?
Yes this will work on any fabric that is treated with a DWR and/or has a waterproof breathable membrane.
Spray on vs. Wash in
Familiarity:

I've put it through the wringer
Follow the instructions, washing first is important. It doesn't have to be like new but you have to wash out any spills, hand grease, or anything else that has built up on your coat. I've used the wash in and the spray on many times. Both work very good, but you can do multiple coats w/ the spray on. In really wet weather the multiple coats of the spray on will give you the best waterproofing for your coat. The wash in can be used once w/ one or two garments and must be used all at once. The spray on does about 2-3 garments, and you have a lot more control. You can apply heavier in areas like the cuffs, shoulders, etc.
Excellent
Familiarity:

I've used it several times
If you have any type of Gore-Tex item that has lost some of its waterproofing this is definitely the way to go to get your jacket revived to be like new. I have used this for the past 3 season's and I love it. It is very easy to apply to the jacket, just make sure to read the directions before using. Once I applied both of these it made my jackets and pants pretty much like new. The water would bead up on the outer material again instead of just soaking into the jacket. I mainly use this on my Patagonia powderbowl jacket and my Oakley Seth Morrison bibs from last year with no regrets. I have found that for me the front loading washer was easier on my jacket and pants, you just have to make sure to clean out the detergent tray because using powder detergent on Gore-Tex jackets can ruin them a bit.
Do I run a rinse cycle before waterproofing...
Do I run a rinse cycle before waterproofing with TX.Direct?
I run them thru with the tech wash and then right back thru with the wash-in. I do not believe you need to run a rinse cycle.
Loyal to the product.
Gender:

Male

Familiarity:

I've put it through the wringer
I buy this duo of products every year without fail. While most people would say that it's an indicator that they don't work, I say that the preventative measures of using these are well worth the yearly cost. I use this on 2 jackets, 2 pairs of pants and a handful of gaiters. After use, rain, snow and any other form of moisture just beads up and rolls away. It also doesn't compromise wicking ability and breatheability at all. Nikwax products are the sole reason why I'm able to keep my gear and clothing at optimum performance year after year.
Amazing
Gender:

Male

Familiarity:

I've put it through the wringer
Absolutely love these products... Just washed and waterproofed my ski jacket and pants. It works great, cleaned the jacket which had some stains on it. The best part... it made my killy jacket not only look brand new but it completely waterproofed it again. This was immediately tested as it was raining and the water just beaded and ran right off. Though it appears to be kind of pricey, backcountry has it for less than you will find in most stores and for once or twice a year that you would use it for ski gear it will pay for itself immediatey as you will be dry and warm, enjoy!
Worth it overall
Gender:

Male

Familiarity:

I've used it once or twice and have initial impressions
Was having trouble with waterproofing on my Goretex ski shell, definitely restored it's water resistance up to near original performance with no obvious difference in breathability.
I used this on a jacket and pair of pants that were very dirty and they came out looking brand new. The TX Direct also improved the waterproofing of both garments. This stuff works great and will bring your old dingy clothes back to life.