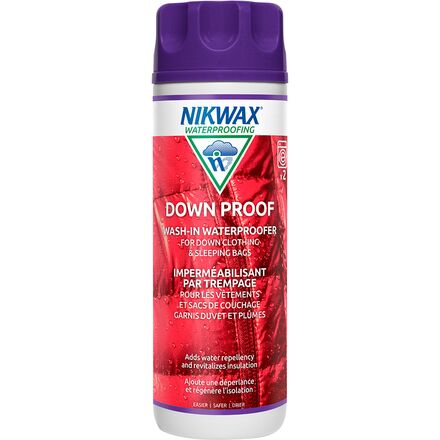 Colors
Description
Getting wet in your down coat? Get a Nikwax Down Proof.
Nikwax Down Proof adds durable water repellency (DWR) to your down filled garments. Down is an amazing natural fiber for its compressibility, resilience, and warmth. The major drawback of down is it's inability to retain loft and insulate when wet. To add water-repellency to the whole garment—shell, down, and inner lining—use Nikwax Down Proof. **NOTE: If your down garment incorporates a waterproof breathable shell fabric, you should use Nikwax TX-Direct Spray-On (our item no.: NIK0008). 10 fl oz. (300 ml)
Worked like a charm
Familiarity:

I've used it several times
I had success with this product. It made a standard down puffy pretty water proof. Saved a few sleeping bags that were exposed to frost that subsequently melted. It has worked flawlessly on all without any negative results.

It's not a long term fix, though. I found it to be incredibly effective the first time my puffy got wet, but it's since been a little less effective each time. I have yet to get the jacket so wet that the down clumps in useless, soggy freeze spots, but i suspect without a treatment soon, the jacket will beccome a sponge.



Just like you should wash your gear regularly, you should treat your down jacket with this regularly.
My Lightweight Down Puffy wasn't the same
First off - let me just say that it does add water repellency to the down jacket. But this comes at a cost I wasn't willing to live with. I have a lightweight North Face Thunder jacket and after i put it through a treatment with this stuff (following instructions to the 't') it seemed like my jacket had a thick, dirty, greasy film on it. This product probably works well with more inudstrial down products but I would not recommend on light weight puffies like TNF Thunder or Mont Bell jackets. I re-washed with normal down-wash and that seemed to clean up the jacket a little but there is still a slightly dull sheen to the jacket that wasn't there before. The loft was also slightly effected. It still lofts but not as much. I guess waterproofing comes at a price when it comes to down. This is the only Nikwax product I cannot recommend. All of their other stuff works wonders though.
Will this work on a microfiber down coat...
Will this work on a microfiber down coat that was never water resistant in the first place? And will it get into down and cause clumping?
Hi! Nikwax Down Proof adds microfine durable water resistance (DWR) to both the exterior fabric and the feathers within a garment. It is designed to preserve loft and will not cause clumping. However, i'm not certain how it will affect the microfiber exterior, as it is usually used on nylon or something similiar. It will add DWR, even to something that wasn't water repellant in the first place, but it may slightly alter the appearance of the textured exterior. I hope this helps! Thanks for your question! Stay Dry!
NEVER wash a down jacket. ever.
never never never never wash a down jacket.
all the other nikwax products kick ass.
however washing a down jacket is a gamble and it really sucks trying to unclump sections of your jacket.
Lives up to the claims...
This stuff seemed to work pretty well. I washed my down puffy in this stuff and I was pleased. I hadn't washed the jacket all season, so the finish was pretty wasted. The down-proof solution seemed to add quite a bit of water-repellency to the jacket. I was worried that the loft would be ruined in the wash, but it actually fluffed up even better than it had before. (Make sure to use tennis balls or something similar in the dryer to fluff up the jacket). I haven't really tried anything else, but I'll definitely get some more of this stuff for the next wash.