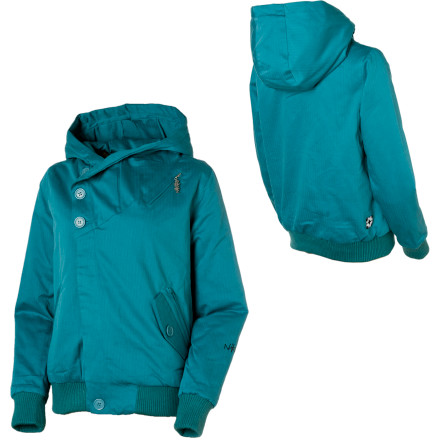 Detail Images
Entertain yourself. Pull the Nikita Women's Amuser Jacket's hood over your head and sneak behind your guy unexpectedly with hand full of snow. The Amuser's cozy insulation keeps you warm when your plan backfires as he swirls around, grabs your fist full of snow, and smears it all over the front part of the Amuser.
Like the previous reviewer, I'm having a problem with the stuffing seeping out of the fabric. On a black jacket especially, it's pretty unsightly. It looks as if I've spent the day wearing it and rolling around in animal fur. I've washed it a few times and used a lint brush/tape on it, but that hasn't worked. It's frustrating to deal with such a high maintenance jacket.

Fit-wise, the jacket is a little tight at the shoulders and roomy at the waist, but in general, it's pretty cute.

Bottom line, I recommend this jacket if you can tolerate the stuffing problem and if your shoulders are on the narrower side.
I love the style of this jacket and was really excited to get it. But was really bummed when I got it.

I was disappointed to see how poorly this jacket fit. I am tall and thin. The small fit best but the sleeves were too short. With the medium, the body of the jacket felt like a huge bag. This jacket is not flattering at all!!
buttons?

Why did you sew them on with... air? Three of mine fell off in the first day. Otherwise, love it.
Unanswered Question
Are the sizes for this jacket fairly...
Are the sizes for this jacket fairly regular? I'm tossing up whether to get a size XS or S, I'm about 5"1 and about average weight for my height.
It looks great, pretty comfy and not so bulky. But, the fiber insulation or whatever it is, keeps coming out. it's not lint coming from elsewhere, it's coming from the jacket. And it keeps pilling in areas of contact like underneath the sleeves. it would have been a great jacket, but no matter how my times you roll a lint brush on it, nothing works.
i'm not sure why dogfunk has so many descriptions about clothes being nice while you ambush your latest boy toy. i can only assume their girls repeatedly give 'em a beat down and they'd rather have a chick in nice schwag doin' it. if thats the case this jacket is perfect. LOVE IT! The buttons are kinda loose so if you plan on stacking an arsenal of snowballs and going all guerilla warfare on your boy I would reinforce them before heading out to war. Other than that its good quality and keeps me toasty, I'd buy it in blue if I had a job....and money.
It looks cool. BUT the buttons fell of on the first day I had it. The zipper is really rough on you chin/neck and the elastic on the bottom is very loose.
I love Nikita clothes so I will continue to buy their stuff, this piece just wasnt the best..
where did all the buttons go?
this jacket is super cute however all my buttons fell off the first time i wore it! i would suggest sewing the buttons on tighter once you get it!
Hi! I would like to ask you if you sent...
Hi!
I would like to ask you if you sent goods to europe and how much is sheeping and for how many goods can get free shipping.
Thx for your answer!
The best way to get these questions answered would be to click the "Live Chat" button to speak with a Gearhead.
This jacket was way more than I expected. The buttons on the top make this coat unique and the collar is super cute!
This coat was more than I expected! It has a super cute collar and the buttons make it different than anything else I have owned.