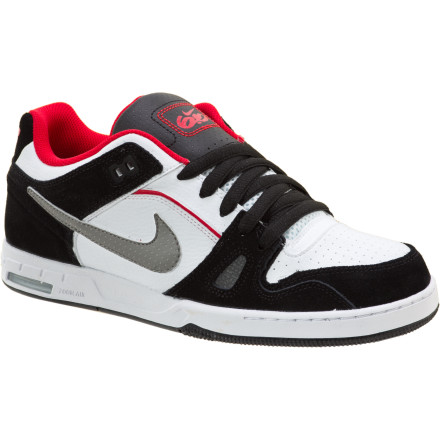 Detail Images
Nike 6.0 kills style with tech, and begets a style all its own. The Zoom Oncore 2 adheres to your skate deck like an octopus dipped in crazy glue. Air cushioning in the rear absorbs ten-step bailouts, and thick padding supports your ankles. The double-layer suede ollie guard defends against premature sock peepage, and a grippy vulcanized-rubber chevron tread covers the entire sole for predictable grip no matter where your foot lands on the board.
I like the suede look, other than that its a shoe, looks dope with the volcom suit though will be rockin it at the christmas party
i take a size 12 in DCs just wondering...
i take a size 12 in DCs just wondering what size i should get in these shoes?
I would say get a 12. They're going to be very similar in fit. And if they dont fit, you can always return them.
Yeah, I got these in purple. well Faded Taupe/Deep Burgundy, but let's face it, they're purple. They're so purple I rocked them at my high school prom with a Purple tux. It was legit. Anyway, they seams are starting to fray after a year, and i had to replace the insole liners, but other than that they are super comfy and reliable. Not the best skate shoe, but just chillen on the side of the road makes 'em chuckle.
Great and comfortable shoes. took them on a trip to Europe and they held up great. highly recommended
I disagree with the other reviewer. These Nike 6.0 shoes are great quality. All of my seams are sewn flat. No seams have come apart. They are some of the highest quality skate shoes I have ever owned. I have that Blue/Yellow/Black color and they are really cool looking. They almost still look brand new and I got them in December!

These have to be one of the best fitting, highest quality, best looking skate shoes on the market!
These are comfy shoes. Like all Nike's, they run about a half size small. So if your a size ten in most shoes, you're going to want to get these in size 10.5.

The shoes look good, I bought the Rustic/Grand Purple-Dark Obsidian, and really like the earth tone-esque color way.

Like most Nike's, the manufacturing is not great. There are points where they really cheap out and instead of sewing an open seam down, they leave it exposed, giving it an incomplete finish. The laces are hard to push through the upper plastic lace holder at top of shoe.

All in all, they look great, but Nike 6.0's are not a high quality production shoe. For $84 bucks, they really need to finish all the details, sew down all open seams etc.