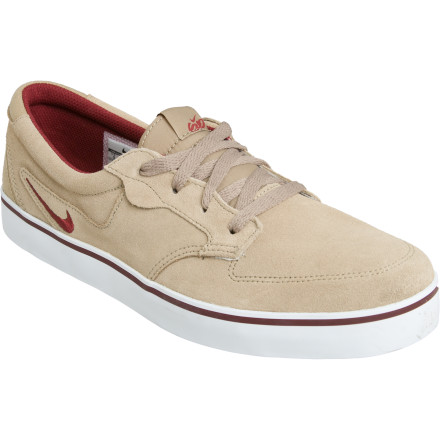 Detail Images

Community Images
Conformity isn't your bag, so lace up the Nike 6.0 Men's Braata Shoe and stun the style-lacking automatons on your block. This low-profile skate shoe packs a punch whether you're flipping to bluntside or just stepping out for a milkshake. A super-durable upper and EVA padding in the midsole keep it real whether you're skating or chilling, and a grippy outsole pattern makes this Nike 6.0 shoe something you're not likely to see the douchebag neighbors wearing.
bud du dum bum ba im love in it
i really like these shoes there great, i have them right now there really light and comfortable, they did a really good job making these shoes, there flexible, good to skate, light, good looking. just an all around good shoe i just wish they were cheaper because i have no money.
Braatas are the way to go!
I made these ones in the Nike ID program and got them. I don't even wear them a super ton because I love them so much. They are so flexy and simple. Nike really stepped up on this one and made in my opinion, the best shoe ever. I love these so much and can't imagine a better shoe.
Nike designer giving the shoe a quick review an talks about the tech.
When I first bought these shoes i was stoked on how light they were. But on my first day skating them they already started to tear and by the second week I had around a three inch hole in each shoe.
I have a question too. What is the material...
I have a question too. What is the material of this shoe ? Is it entirely made of synthetic leather ? Or There is some animal leather in it? thx
Leather, suede and textile upper
these shoes get a lot of compliments, at least the black ones. i dont think they're very durable though because the materials are so light. don't skate in them.
Iono what the person is talkin about that gave these shoes a low rating. These are comfortable, stylish, and durable. What more can you ask for?
These are ok shoes, but are just a Nike 6.0 version of the Nike SB Janoski signatures. If you want a pair of shoes like this, go for the Janoskis or the Globe Castro. These also look similar to the Vans Era. These just felt like they had a lower quality build than the Nike SBs, the Globes or the Vans.
The Nike 6.0 Braata is a great new addition by the brand that is slowly taking over the world. The Braata is a low bulk shoe that is amazingly light weight and comfortable to wear. It's almost like you have nothing on your feet. The shoe doesn't have the fancy Nike Air technology but this is a great shoe that you can get on and off your feet with no hassle.
The Braata also makes your Nike's a little more classy. You can wear them to work or school or wear them for a night out on the town.
I have a question about the Nike 6.0 Braata...
I have a question about the Nike 6.0 Braata Shoe, Men's. I'm wondering if the shoe size runs small or large. Like as in if your usually a size 8 but you have to buy an 8.5 in the braata shoe because the shoe size runs small. And vise-versa. And is it for people with narrow feet or wider feet? Thanks!
All the Nike 6.0 shoes I own fit true to size or even a little large. If you are an 8, buy the eight, especially if you have narrow feet. They should fit perfect.