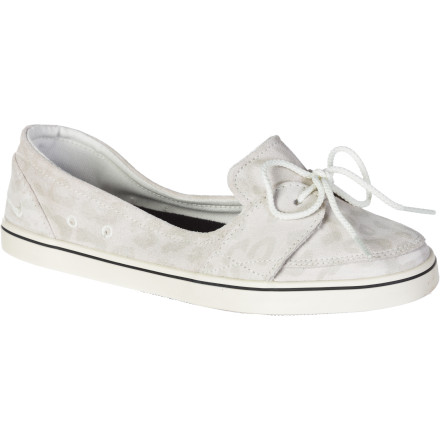 Nike 6.0 gave the Women's Balsa Lite Shoe a streamlined design and top-quality materials to provide you with an on-the-go shoe that can handle your daily routine. Rock these itty-bitties to the beach or for a day on the boat.
Leather, suede, and nubuck uppers are durable, good looking, and they feel good, too
Phylon midsoles give you a cush ride
Rubber taping throughout midsoles keep these shoes together with long-lasting structural support
When will you have the balsa lite shoes...
When will you have the balsa lite shoes again? I have one pair and love them. I want more in other colors.
Hi Sue,

Unfortunately we currently do not have any more of this model ordered to come into stock, sorry about that!
I worked at a shoe store all last summer and was always told Nike runs a little small so people generally went a half size up from what they would normally get. I normally get a 7.5 in all other shoes, and even my other pair of Nikes is a size 8, so I went with the 8. Unfortunately, the 8 was wayyyy too big. I was sad to send them back because they were really cute and just what I was looking for. I guess it was my fault though. I only gave the shoes 3 stars because, in my opinion, the structure and material of laces just seemed cheap and not worth the fifty-something dollars. So, just a heads up to anyone that's a little meticulous. However, I'm still going to look for the shoe in my size on a different site since dogfunk is sold out of it. Despite the price, they are exactly what I'm looking for. Cute and simple.
Comfortable slip on shoes!
I'm a huge fan of slip on tennis shoes, and these are one of my favorites. Please note the Action Red/Black/White color is not completely accurate in the photo. It is a lighter red, somewhere between a dark salmon and true red. If you are looking for a true, true red shoe, this is not it. However, the color is pretty awesome, and isn't too bright or flashy. As far as the fit, I do find these to be a tad big, but not so big I needed to exchange them. The insole makes them a little more comfortable than other similar shoes, and the sole feels like it will last for a decent time. These shoes are going to be in heavy rotation all summer!
I tragically had to replace my last pair of balsas and am happy to write that these have met my expectations. The first thing you notice is how incredibly lightweight they are. They are constructed the same as the previous version- narrow in the toe box and run true to size. I purchased the Stealth/ Black/ White/ Hot Punch color combination and the color is a bit off from what is pictured above. The hot punch is like a deep hot pink. It looks fantastic when I take these shoes off.